Thursday, May 12, 2016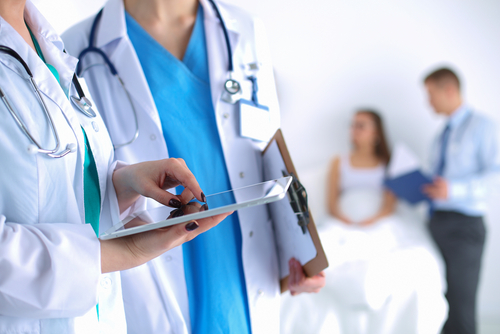 Today, communications in all industries rely heavily on mobile technology, which is why it's almost hard to believe that it's taken so long for hospitals to begin coordinating their healthcare communications via tech. However, a UK hospital is putting antiquated ways aside in favor for mobile, online communication of patients' medicine needs, appointments, and other areas of treatment.
Mobile Device Pilot Program at Nottingham University Hospital
Researchers at the University of Nottingham are turning to a mobile device pilot program in the Nottingham University Hospital that will allow doctors, nurses, and others involved with critical patient care to access data regarding patients through online technology.
The pilot program, a pioneering electronic observations package (called eObs), was approved by Nottingham University Hospital's NHS Trust (NUH) in 2015 for use in Nottingham University Hospital. Rollout of the program involved more than 5,500 staff members (including physicians, nurse practitioners, nutritionists, and physiotherapists) at both the City Hospital and the Queen's Medical Centre.
eObs allows medical professionals and staff to log in and access patient data on tablets and mobile phones instead of writing important information down on paper. This gives staff the opportunity to complete record-keeping tasks faster and have more time to tend to patients.
Mobile Technology Saves Time and Provides Better Patient Care
The traditional way of keeping patient records involves meticulously entering data and retrieving it via paper records, which are kept in files in offices. This system is supposed to account for all patient observations, prescription orders, early warning indicators, and treatment plants.
Instead of this time-intensive method, which usually cannot provide immediate evaluation of or access to data, the eObs software (developed by Nervecentre Software Ltd) keeps real-time patient information and generates important alerts so that heath professionals have the stats they need when they need them.
Dr. Alexandra Lang, a Faculty of Engineering Human Factors Research Fellow at University of Nottingham, said, "After the eObs package was introduced, we noted staff spent less time in offices filling out and checking paper notes and talking on the phone to glean or chase patient data from ward colleagues or those in other departments."
The eObs pilot program is giving doctors, nurses, and other hospital staff members more time to tend to patients in the ward, meet with other staff members, and address concerns of patients' visitors. This mobile technology app and others like it could make a huge difference in patient care worldwide.