Friday, April 10, 2015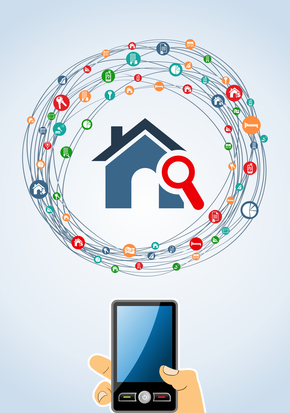 The real estate business is all about people: creating and fostering touch points with your clients and potential customers, and seeking to maintain those relationships over a long period of time. With the advent of new technologies, this industry has seen a relative change in the way properties have been bought and sold. Real estate will always be primarily about making time for customers, but mobile tech especially has increased the abilities of the everyday realtor.
With the development of mobile apps and mobile web-friendly sites, realties and brokerages have had to keep up with the curve, creating and providing their own software to agents and customers. And while it may seem that advanced technologies may diminish face-to-face meetings between clients and agents, mobile tech has functioned more like a facilitator for these business meetings. When information must be passed along quickly, mobile technology has been the best way to communicate and share this information. Also, as the millennial generation comes into capital that they can spend on an investment property or their first home, they will expect that sort of technology with the brokerage they choose to do business with.
The three major points of mobile technology that will assist realtors in future business are real-time connectedness, multimedia platforms and paperless technologies.
Real-time connectedness
As consumers continue to demand 24/7 attention, the real estate business can utilize mobile tech to meet their needs. Along with the development of apps and mobile-friendly sites, brokerages must develop a social media presence as well. LinkedIn and Facebook are excellent for developing relationships; also, be sure to use Twitter, Pinterest, and a blog to continue to foster interest in your business.
Text messaging for real estate
is also a huge plus in the realm of instant engagement.
Multimedia platforms
As mobile tech adapts to the changes in how we do business, look to new innovations in multimedia for help. YouTube is an excellent platform for this. You can create marketing videos that say a great deal about your business for only a few minutes of a potential client's time. Furthermore, 3D online property tours are beginning to gain traction as well: through a firm called Matterport, realtors have been filming homes and storing the virtual walkthrough in their cloud. Clients appreciate the advance knowledge about the property, as well as the ability to check it out – even if they are out of town. MMS can also help realtors send photos to several potential buyers at once.
Paperless technologies
Many consumers want to work with businesses that are interested in reducing their environmental footprint, and paperless technologies are a very useful step in that direction. Property info and client details may be stored within the cloud. Apps and mobile web technologies are helping to facilitate business as well. For example, by creating browser-based appraisal forms with auto-fill capabilities, the process of converting potential customers into lifelong clients is streamlined.
Remember, the move to a more-technologically advanced business has its drawbacks. There is always an initial cost to develop the tech and train your agents to use it. Furthermore, since the real estate business demands a great deal of eye-to-eye customer contact, mobile tech cannot and should not replace these intimate interactions. By taking advantage of the major advancements of mobile tech, however, real estate professionals will certainly augment their business, making their brokerage stand out among the competition as the technologically-savvy real estate firm.