Thursday, October 30, 2014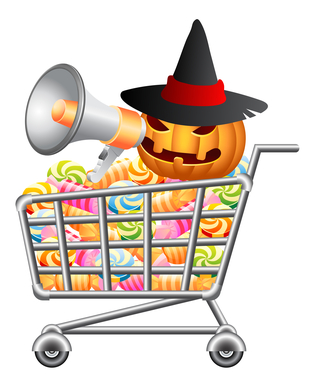 No matter how small your business, it's always a good idea to celebrate Halloween and use the spook-tacular holiday for marketing purposes. Check out a few Halloween marketing options and get in on the fun:
Pumpkins
A simple way to infuse Halloween into your marketing plans is to use pumpkins...in everything. Pumpkin-flavored beer works for bars and restaurants, or simply incorporate pumpkins into your business decor. Giving away pumpkins of varying sizes with purchases is another ideal way to use pumpkins in marketing campaigns.
Holiday Shopping
Christmas displays and decorations go live in most retail and department stores while it's still October, and provide that extra push people need to jump-start their holiday shopping. Use Halloween as a chance to advertise your buyer reward program, layaway options and other exclusive offers coming up for the holidays.
Haunted House
Who doesn't love a good haunted house? Partner with affiliates to sponsor a haunted attraction at a local facility, or have one in your office or establishment and open your doors to the public. Creating a themed haunted house is also an option, such as a demented doctor's office or creepy circus tent. While a haunted house is a lot of work, it's also a great way to keep clients and prospects talking about your business.
Branded Items
Participating in a local trick-or-treat event, fall festival or other Halloween happening? Give away branded items, such as customized candy, t-shirts, drink cozies, keychains, stickers and small flashlights. It's a great way to put your logo in the minds of consumers, and won't cost much.
Costume Exchange
Demonstrate your dedication to your community by organizing a costume exchange. National Costume Swap Day began in 2010, and offers a great opportunity for scoring costumes without paying outrageous prices. It also provides the option of getting rid of "old stuff," and allows people to learn more about your business.
Ghost Hunt
Partner with local businesses to create a ghost hunt. Customers wander from business to business in search of "ghosts," whether of the cut-out/toy variety or played by employees. An ideal way to ensure people check out your business, don't forget to offer a prize at the end. Giving away coupons and information about other offers is also a possibility.
Use these and other Halloween marketing tips to make the most of the holiday and subsequently encourage customers to buy from your spirited establishment. One of the many perks of Halloween is getting as creative as you want and having fun with customers.