Tuesday, October 28, 2014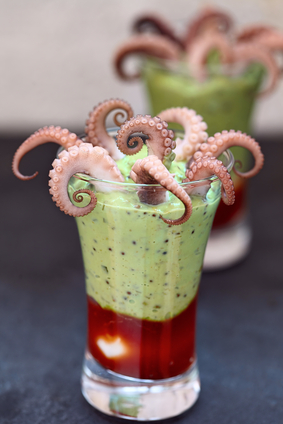 Halloween used to have commercial value for the last few days of October leading up to the night itself. Now, it's a month long bonanza. Up to 40% of consumers even start their Christmas shopping before October 31
st
(according to the National Retail Federation), so it's the right time of year to start angling for attention from consumers.
Halloween is a $6 billion spend-fest, so if business slowed down over the summer, it's time to crank up your marketing efforts and make hay while the sun, er, shines a bit less!
How can your restaurant leverage some of that spending power? Here are a few top tips on creating an appropriate atmosphere for Halloween.
Black Magic Menu
Creating a Halloween-themed menu needn't require a complete overhaul of your supply chain. Make small adjustments. Rename dishes to give them a sense of spook. Push those Bloody Marys that were always on your drinks menu but nobody ever bought. Serve your cheese plate with a
guillotine
(this also works well for Bastille Day!).
Red is the key color so think marinara, bell peppers, chile – get creative with dish names. Ribs can become zombie bones; steak tartare can be rebranded as ghastly lumps of flesh. Pumpkin is not only appropriately seasonal, it's also incredibly versatile, so offer at least one entrée and one dessert containing Halloween's signature squash. People expect promo offers at this time of year, so make everything scary except the prices.
Deadly Décor
No-one likes a killjoy at Halloween. Get into the spirit of the season and transform your restaurant into a haunted house of deliciousness. The bar should be festooned with wispy cobwebs and torture devices. Turn the lights down low or replace bulbs with muted reds and oranges. Decorate tables with candles and use
novelty cutlery
. The more memorable you are to first time customers on Halloween, the likelier they are to come back before Christmas.
Spooky Staff
Likewise, your employees should be encouraged to dress up. Go the whole hog with full costumes and masks or, if you're looking for a more subtle nod to the season, simple all-black outfits with gothic makeup.
Killer Promotions
Offer discounts on food and drink via mobile coupons. Halloween is the perfect time of year to partner with other local businesses. Drinks suppliers and costume shops will push your coupons if you reciprocate. It's a proven marketing strategy, and keeps you plugged in to the local economy. Promote the big night via social media, and send an
SMS blast
to all your contacts. More than
40% of consumers browse products and services
after seeing an ad, so it's worth ramping up your mobile ad spend at this time of year.