Thursday, August 28, 2014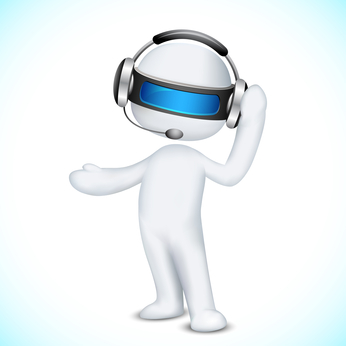 Interactive Voice Response has become an indispensable tool for sales and customer service calls. IVR reduces costs by minimizing time spent on the phone by live agents, and it allows for efficient customer service around the clock. Clearly it's all about the money: a live agent phone call can cost upwards of twenty-five dollars, while the average call cost for IVR is less than a quarter. Knowing when and where to utilize IVR is another matter altogether.
The truth is that most of your customers will prefer a live agent to an automated call. Oftentimes they will tolerate an IVR provided that the information they are looking for is straightforward and easy to understand. If a customer requires more than the automaton can give them, however, the system should provide the option of transferring the client to a live representative immediately.
Best Practices for IVR
An IVR must route incoming and outgoing calls effectively. IVR phone trees can be a real hassle to customers if designed poorly, so be sure to carefully develop, test, and optimize the best phone tree for customer satisfaction. Allow customers to quickly identify themselves to an auto-attendant, then assure the IVR gets them to the right place with the fewest amount of key presses. Put the most common and broad categories up front, so customers can get to the right place quickly.
IVRs are most effective when they address simple informational questions. For example, they are perfect for checking balances, making payments, verifying addresses, or getting directions. IVRs are also great for confirming certain transactions and delivery dates. Beyond these simple tasks, however, phone trees often get complicated and potentially confusing.
Use Live Agents When Necessary
Live agents are necessary when customers have more complex needs. Having a common key, like 0, for customers to reach an operator at any time will dramatically decrease frustration and brand mistrust. If the company typically experiences long wait times, it's always an added convenience to provide a callback feature so that customers don't have to wait in the queue listening to muzak. Once a live agent is on the call, they should be trained to carefully take note of a customers' emotional state, while understanding exactly how to help the customer quickly and effectively.
A phone tree can also be helpful in assuring that the right call agent (in the right department) talks to a customer with a problem relevant to that agent's department. Customers with special needs or complicated questions appreciate a live agent who can actually help them, rather than having to transfer them to another department. Plus, if a customer experiences distress during the call or with the company's overall service, it's always nice for a friendly agent to offer a consolation in the way of discounts on future service or freebies. These practices will surely help retain customers, especially those who are in problem mode.
A little bit of analysis will go a long way. Look at your metrics: Why do most customers contact the company? What are the most common problems or questions? Define selections in the phone tree accordingly and assure there is an easy way to transfer to a live agent. All customers would like to speak to a live customer service rep, but sometimes there just aren't enough agents for the amount of customers calling. This is where an IVR phone tree becomes crucial. Carefully balancing a well-designed IVR system with live agent engagement will help make the customer experience simple, quick, and painless.