Monday, March 14, 2011
There's a number of ways to learn about
CallFire's Cloud Call Center
, such as
joining our twice-weekly webinars
or
downloading this useful PDF
, but if you want a demonstration on-demand, follow these simple steps:
1.
Visit
CallFire.com
, and in the upper right-hand corner, click on "Agents."
2.
In the Campaign Name or ID field, type "CallFire demo" and scroll down to the demo most applicable to your business.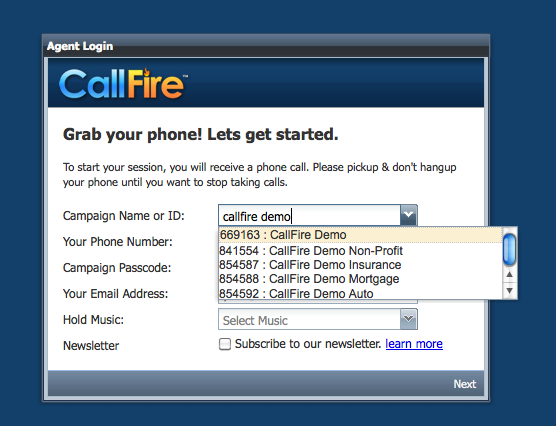 3.
In the "Your Phone Number" field, type the 10-digit phone number you'd like to use for the demonstration. You can use any phone, like your cell phone or landline.
4.
For the Campaign Passcode, type "demo" - all lowercase.
5.
Enter your email address.
6.
Select the kind of music you'd like to listen to in between calls, or choose "Silence" if you don't want any.
7.
Subscribe to our newsletter if you want more great tips on using CallFire.
8.
Click "Next" in the lower right-hand corner. Your phone will ring with a pre-recorded message from CallFire, and once you press #, this message will give you your Agent ID number. Enter that number into the box.
9.
The demo will walk you through the rest. You'll see how each CallFire feature works, including call transfer, SmartDrop, and how to disposition each person's answers.