Thursday, May 29, 2014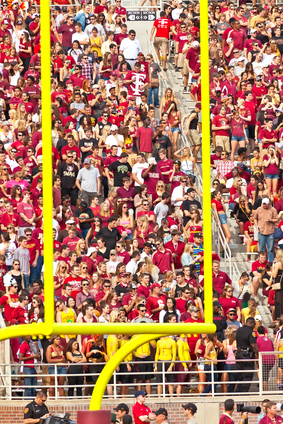 Text marketing has evolved into a highly-viable method for companies to reach a wider audience and increase brand awareness. The advantages of mobile marketing are not lost on the professional sports industry, with increasingly more teams using SMS, apps and similar options to provide deals and discounts, draw bigger game-day crowds and otherwise engage fans. College sports teams are also getting in on the mobile action, and are utilizing texting as a way to maintain fan loyalty. Let's look at five ways to use texting marketing in college sports:
Last-Minute Ticket Promotions
Want to sell those remaining seats on game day? Last-minute ticket promotions via SMS is an effective way to get the seats filled. Sending fans promotional codes that offer discounts on seats, or similar alerts, is an easy way to fill empty stands and increase fans loyalty. Incentivize fans to talk about the promotion or the game itself on social media by rewarding them with discounts on upcoming games or other special offers. They'll love it!


Game-Day Experience
Engaging students and fans via text marketing during the game itself is also a worthwhile way to stay connected. For example, sending texts that offer discounts on food and drink as a reward for attending alumni is a great way to increase fan loyalty and keep past students cheering for their school in years to come. Texting event goers with links to exclusive replays or videos of the players is another possibility, as are texts that alert fans as to the shortest restroom or concession lines. And these are just a few ideas!


Off the Field
It might not be game day, but that's no reason not to market a college sports team. Text message marketing works "off the field" to keep fans interested in team activity on off days and in the off-season. Examples include sending texts about upcoming games and team-related events, on-campus rallies, streamlined information about fans' favorite players, and college team pools, which are particularly popular during the NCAA "March Madness" tournament.


Venue and Game Date Changes
Want to let students and fans know a venue or game date has changed quickly and easily? SMS is one of the best ways to do this. Statistics show people check their phone messages much more frequently than they do email messages, so sending information about certain game day changes via text is an effective way of keeping fans informed. The same applies to internal staff, who also require alerts regarding game day information, practices, scheduled fundraisers and events, and anything else pertaining to the team and their jobs.


Players and Internal Staff
Text marketing is a great way to work with college team players and internal staff for a variety of communication needs. Keep the roster informed on practice dates, uniform requirements, game locations and call times, and much more. Texting is even a way to send team members health and fitness tips.
These are merely a few examples of the many possibilities text marketing presents regarding college sports teams. Is your college team connected via mobile?