Friday, February 26, 2016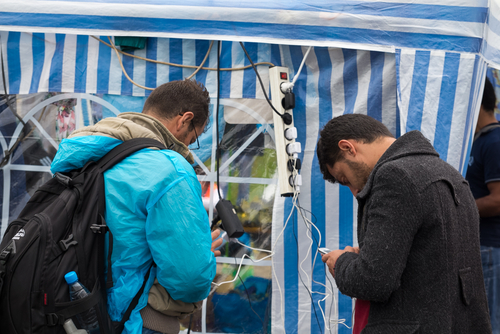 Vodafone's Mega Charger will soon be placed in refugee camps to provide up to 66 charging points for refugees traveling across Europe so they can keep their mobile technology charged. The portable mobile device chargers, which were showcased at the Mobile World Congress, were designed to help the Office of the United Nations High Commissioner for Refugees (UNHCR) give more assistance to people fleeing from their countries and trying to get in touch with relatives – or anyone who can offer them aid.
The Instant Charge Charger
The Mega Charger is designed to give refugees the ability to charge their phones—up to 66 at a time—in camps that would otherwise not offer the ability. The chargers weigh only 23k, and they're water resistant. They can be set up in less than 10 minutes, and they come with USB charging ports and cables. This means that refugees don't need to provide their own chargers. They are able to receive a charge thanks to borrowed equipment powered by a generator.
European Refugees Have a Special Need for Mega Chargers
Oislin Walton, Vodaphone Foundation Instant Network's Program Manager, said, "Unlike refugees in many other parts of the world, many of the refugee families arriving in Europe have smartphones, rather than feature phones, and there is an increasing need for access to power."
Walton says that after Vodaphone and the UNHCR spoke with refugees, and questioned them about what help they needed most, they were left with numerous requests for locations for them to charge their mobile phones. Instead of arriving at refugee camps and needing the assistance of volunteers to help them contact loved ones, refugees are able to plug in, charge their pones, and start their own searches for help at the camps that have the Mega Chargers.
Meeting a Growing Demand
Many refugee camps have electricity and power sockets, but usually on a limited scale. The Mega Chargers will better keep up with demand for power and help many people at once. The 66-port chargers can be divided into four separate units, if needed, to allow for more space to better meet the needs of refugees. Along with the chargers, Vodaphone has also introduced portable classrooms called Instant Classroom Lite, which will help in teaching large classrooms in refugee camps. These mobile classrooms consist of laptops, which act as servers, as well as 3G and 4G Internet connectivity, a projector, and a sound system.