Monday, June 1, 2015
By Aaron Bloomfield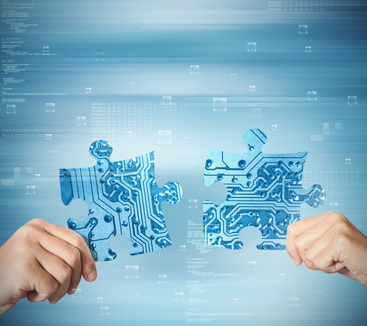 Although reaching clients via SMS through CallFire is generally simple, automated SMS strategies such as appointment reminders and drip advertising campaigns still elude many businesses. The development resources required to build such custom applications appear out of reach, so organizations who feel ill-equipped just move on, maintaining the status quo.
That hurdle is now in the past. Free (or very low cost) integration platform Zapier.com lets anyone take SMS to the next level with CallFire.
Injecting CallFire's SMS functionality into an automated process is now as effortless as setting up a simple text broadcast. Zapier's easy-to-navigate interface ensures that even non-technical individuals can quickly link CallFire with any of the hundreds of other web-based services in the Zapier ecosystem to build custom integrations, or Zaps.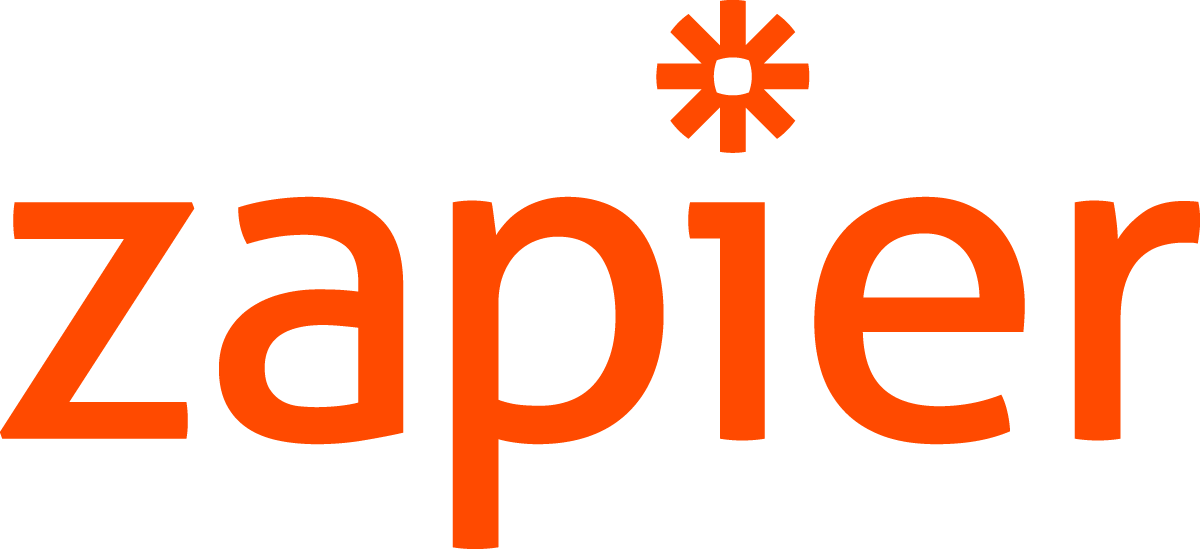 For example, CallFire often receives inquiries about automated SMS appointment reminders. Though SMS is an ideal solution, most appointment-management products do not offer text messaging as a channel for reaching clients. While this is seemingly a limitation, in actuality this frees organizations to integrate CallFire's SMS capabilities into whatever Zapier-connected application best fits their appointment-making needs.
Building an automated SMS appointment reminder Zap really only requires:
a CallFire account;

a Google Calendar account (or other appointment service connected to Zapier);

a Zapier account; and

a little creativity.
Connecting each account is simple. Google products just require that the account is signed into at the time. Otherwise:
1. Grab account credentials from the CallFire website.
2. Choose the account to connect.
3. Connect the account to Zapier with the credentials described above.
Once the accounts are connected to Zapier, the fun begins with a click of the
Make a Zap!
link in the upper-right corner…
First, the trigger and action events must be chosen. Here, they are Event Start on Google Calendar, and Create Text Message via CallFire, respectively.
Next, the associated connected accounts are selected.
Example of a Google Calendar event that will give rise to an SMS appointment reminder being sent from CallFire to the client. Referenced fields illustrate the approach discussed below for managing triggers, client information, and the data that will metamorphize into a text message.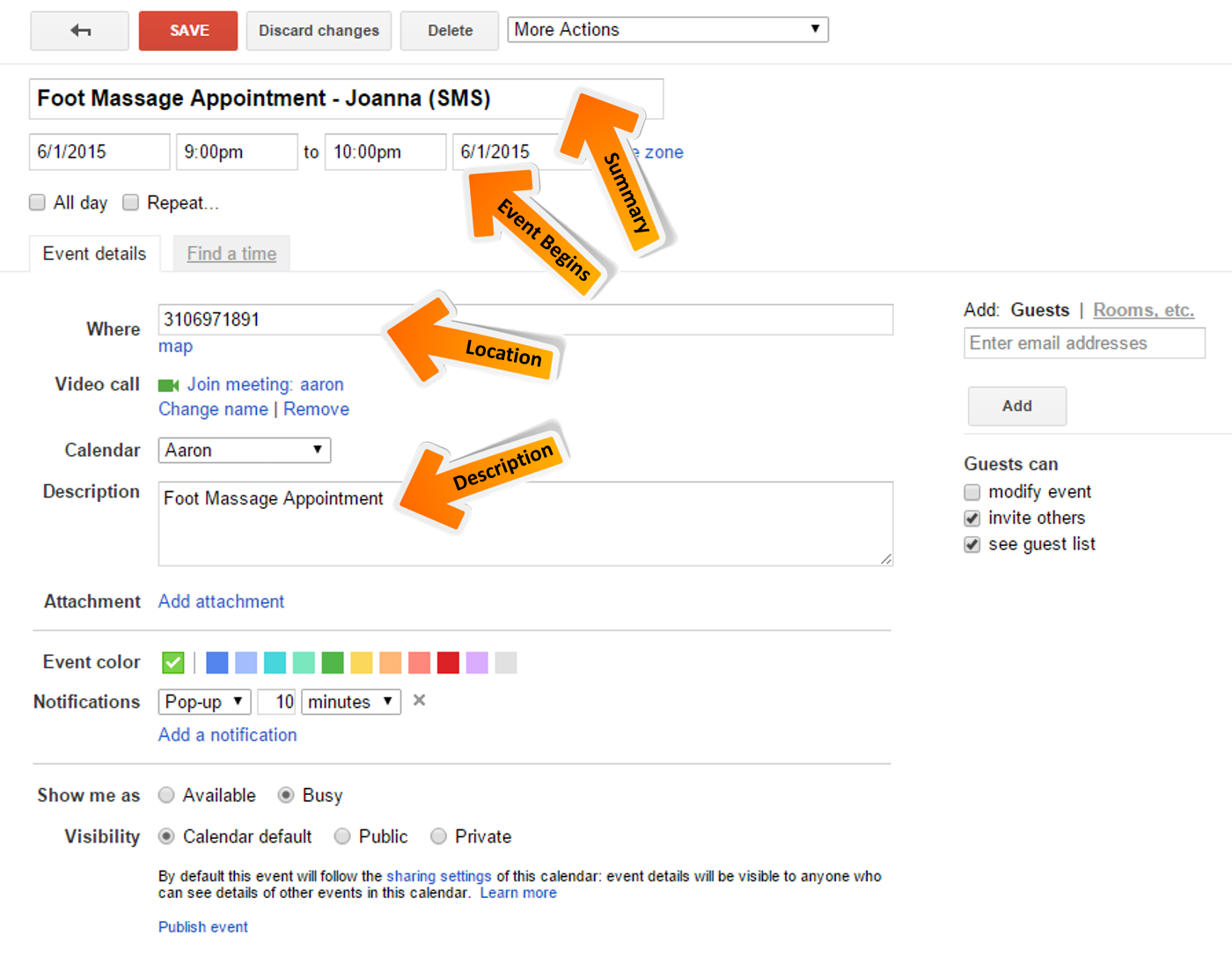 Triggers and filters are at the core of the Zap configuration. These parameters determine exactly which calendar events will generate messages to clients. In this case, one day before a scheduled event, a text message will be triggered only if the word "Appointment" exists somewhere in the event,
and
the event summary contains "SMS." The secondary filter ensures clients who have not requested SMS notifications are weeded out, a
critical
distinction in the current regulatory environment.
Finally, perhaps the most significant information: the message itself and the client's phone number. Data from every calendar event field can be utilized, and in this case the
Description
field becomes the text message, along with the date and time, i.e., the
Event Begins
data (the resulting content should not exceed the standard 160-character SMS length or it will be sent as multiple messages).
The client's mobile digits are cleverly stored as the Location for a given calendar event, and are of course inserted into the Phone Number field for the outgoing message.
Note: The From field typically remains 67076 - one of CallFire's short codes. Messages will fail if this is altered, unless the linked CallFire account contains local call tracking numbers, in which case one of those numbers can be used in place of the short code.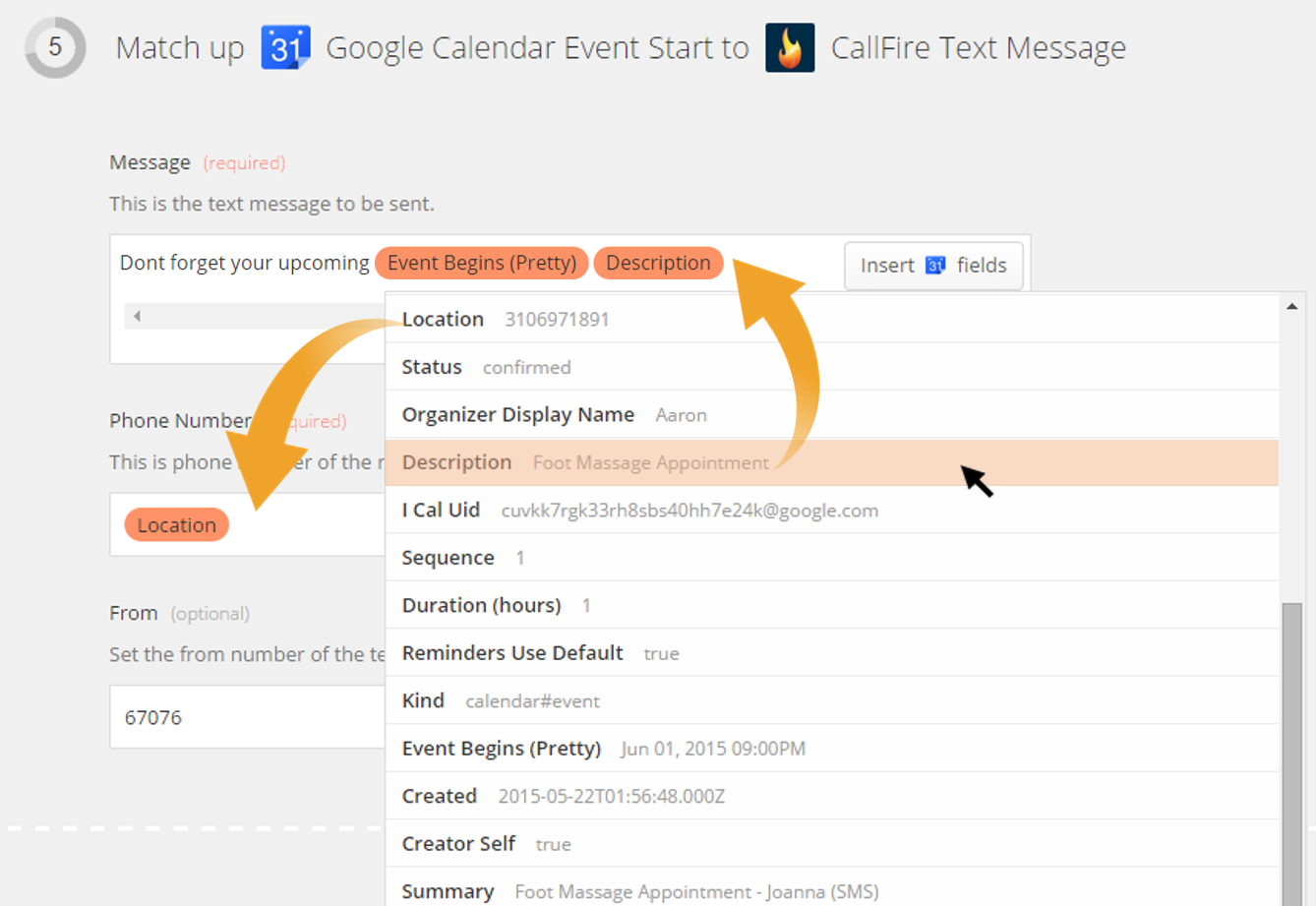 Testing is important so as to avoid unexpected results, and to ensure that triggers trigger and actions act. Once the flow is confirmed, only naming and turning on the Zap remain.
Going forward, appointments in Google Calendar will generate text messages to clients via CallFire, thanks to this fully-functioning, automated, SMS-based appointment reminder, built in just a few minutes without help from any developers.

About CallFire: So hot. About Zapier: So well connected. About Google: So...well, so Google.