Thursday, May 21, 2015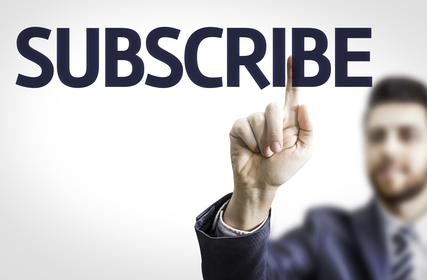 If you own a subscription-based business – or if you are considering it – there are a few things you should consider in order to grow your sales. The best way to increase your revenue is to look at the small stuff: even the tiniest improvements can create tremendous change for your growth. Furthermore, consider the ways that you can improve your customers' experience to retain loyal clients. Here are six ways you can grow your subscription-based business.
1) Collect info on customers first.
Whether you are just starting out, or you've been running your subscription-based business for a while, make sure you are collecting info on your clientele. This is the best way to make changes that will improve your revenue. An effective analytic tool is the best way to get the ball rolling. Try Kissmetrics or GoSquared if you don't already have a good analytic tool. If you really want to track your customers' activity on a website, Inspectlet is excellent for keeping track of exactly how clients navigate a site. Collecting information will not only provide valuable insight into customer experience, habits, and interests, it will also allow you to remarket to them later should they not immediately sign up or make a purchase.
2) Cater emails to customers' needs.
Evaluate how you use email marketing for your business. Newsletters are key, but don't oversend emails as this can create churn with some subscribers. Of course, transactional emails are a great way to keep your products top of mind. Take the time to test your email marketing campaign in order to optimize your conversions. Finally, incorporate lifecycle emails based on your customers' behavior to enhance their overall experience.
3) Send text messages to improve customer loyalty.
Text message marketing
has the benefit of a drastically larger open-rate than email marketing (about 95%, from the latest numbers). Again, make sure that you don't oversend text messages to your clientele. Historically, customers have the best response to transactional messages like billing notifications, as well as customer loyalty messages, like thank you notes, discounts, and other offers. Subscription-based businesses are the perfect candidate for text marketing campaigns, as you already have a list of opted-in customers. Just be sure they have agreed to receive texts from you before sending.
4) Content sells.
Regardless of the type of business you run, content is king. In 2015 alone, more than half of all businesses have increased their spend on content production. Be creative in how you design and deploy your content: in the case of
Dollar Shave Club
, for example, their viral videos have worked wonders for captivating new customers. Moreover, be sure to send out an email blast to let existing customers know about your newest content endeavors – you wouldn't want all of your efforts going to waste. Content delivery should be streamlined across multiple touch points and platforms; for instance, when you post a new blog, it should be automatically posted to your social media networks and perhaps sent via email to your subscribers.
5) Offer upgrades to existing customers.
Upgrades allow for an increase to revenue the simple way – by upselling to current subscribers. Run tests and polls to see what your customers are looking for and, when you're ready, send out some feeler emails at random times to entice these customers. Remember, too many emails about upgrades can instigate some customer churn as well, so look for the optimal time to reach out.
6) A/B test to optimize price points.
Once your marketing machine is up and running, test things out to see what the best pricing model is. Try out some higher prices, especially if you see that the inherent value of your product isn't giving you the return you expect. You can also offer perks for people who pay in advance or always pay on time. Also, consider the message on your website's pricing page and how it might impact clientele when it comes time to make a payment. Try offering various value added services or products as "freebies" when making a purchase, to see if this improves sales.
These days, subscription-based businesses are more popular than ever. Your future customers are out there, so utilize these techniques to increase your lead gen. And remember to never lose sight of what your existing customers want. When you take a closer look at what makes customers tick – including how you can improve their experience – you should see a clear path to growing your subscription-based business.