Friday, April 17, 2015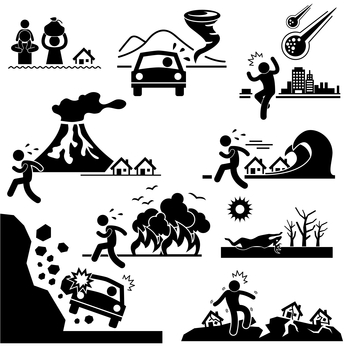 April is Earthquake Preparedness Month in California. The Golden State is well overdue for a major catastrophic earthquake, but it doesn't take a once-in-a-lifetime event to wreak havoc on businesses and homes. Last year's 6.0 in Napa Valley may not have killed anyone, but the cost to winemakers and other local businesses ran to $400 million.
As usual with these types of disaster, it's the small business owners who suffer the most. That's why it's essential that you take steps to protect yourself should the worst happen. We've trawled the FEMA guide to earthquake preparedness to bring you the most relevant pieces of advice for SMBs:
Survival Kit
Before you do anything else, put together an earthquake survival kit. If 'the big one' hits, your office could lose electricity, telecommunication infrastructure, water and other utilities for days or even weeks. According to the Red Cross, a basic natural disaster survival kit looks like this:
A gallon of water per person, per day, for at least three days
Three days worth of non-perishable, easy-to-prepare food items
Flashlight
Hand-crank or battery-powered radio
Batteries
First aid kit
Sanitation and personal hygiene products
Cell phone with battery-powered charger
Emergency blanket
Hard copy of local maps
Cash
There's no need to build your own kit from scratch - companies like Quake Kare sell office-specific kits ranging from $179 to $1575, depending on how large your organization is.
Emergency Notifications
Set up an emergency notification system. If an earthquake strikes in the middle of the day, you can instantly send a pre-recorded Voice Broadcast or text message alert to make sure everyone is safe. If it strikes out of hours and your office building is unsafe or inaccessible, you can advise workers to stay home and keep them posted on developments. Emergency alerts sent to cell phones are practically failsafe, even in a major disaster.
Use the Cloud
Backing up your crucial documents like statements, insurance policies and contact lists is a high priority. Hard copies kept in waterproof, fireproof containers are sensible - even better is to store key documents in the cloud.
Regular Drills
The more prepared each individual is, the more prepared your company as a whole will be, so meet regularly to go over the basics. Host staff meetings to establish best safe practices, like dropping, covering and holding on through the initial aftershocks. Agree on safe places in the office for people to move to during a quake: beneath solid furniture, against main walls and away from windows, cabinets and other pieces of furniture that could fall.
Response Plan
Work with employees to develop an immediate response protocol. Assign specific responsibilities to individual staff members and routinely review the plan as part of your regular drill. Discuss what to do and where to meet if the building is seriously damaged, and create a clear evacuation plan with locations of emergency exits and survival kits.