Thursday, March 12, 2015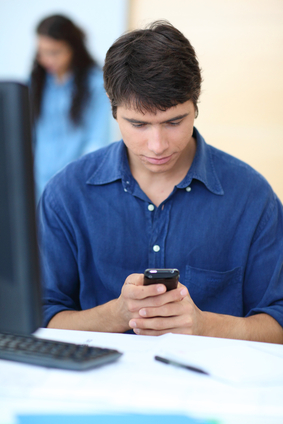 According to a new report by Adobe and eConsultancy, consumers are spending an average of 103 minutes per day on their smartphones, and a great deal of that time is spent using apps and the mobile web. Time spent on mobile devices increased by 9% in 2014, surpassing even TV in the level of engagement. It's time to take advantage of that increase in mobile engagement, and mobile content will be key!
Here are a few clear-cut content ideas to incorporate into your overall mobile marketing strategy:
Optimize your content for mobile.
While consumers are increasingly utilizing their smartphones to reach the World Wide Web, their attention has diminished for inadequate content. A recent study published by Nielsen and Google suggests that mobile website visitors have a 9.5% higher bounce rate than the average desktop visitor. In other words, many people do not engage well with site that don't cater to the mobile user. Always beta-test your website from several mobile phones – both iPhones and Androids – to ensure that your content is exciting and easy-to-read.
On a related note, make sure that your mobile website conversion platform is easy to use. There is nothing more annoying for mobile users than when they are presented with a form to fill out – and they have to type out a massive amount of info using only their tiny on-screen keyboard. Streamline your forms to include only the most essential information-gathering fields. Make sure the code of your site can auto-populate these fields as much as possible, and use drop-down menus wherever applicable.
Redevelop your website with mobile search intent and localized content in mind.
When consumers search the web from their phones, they are often using slightly different verbiage in their searches—slightly more abbreviated and location driven. Therefore, a company must understand both mobile context and user behavior on mobile devices. Got to your Google Analytics account, then to Audience > Mobile > Overview. Using this platform, you can examine exactly what search terms are most commonly used on smartphones and tablets to find your website.
Furthermore, it is important to know the local verbiage that these mobile users employ. Your potential customers surf the mobile web to find quick answers, and 40% of the time these searches are performed with a local intent, according to Nielsen. Google Trends can help you out here. Research local search trends in a given area on Google Trends to can get a better idea of what search terms are more effective (i.e., increasing your SEO) in that area, rather than relying on global search terms that may not be as impactful. Also, localized terms tend to be less competitive overall, and help local consumers find your website more easily.
Punch-up your video marketing.
According to Nielsen, 28% of online consumers watch videos from their mobile phones at least once a day. The opportunities available for video are growing, particularly through websites like Vine, Instagram, and of course, YouTube. Provided you mold your content to fit the quality parameters of a mobile device display, you can present audience with a pithy video to promote products and services. Effective hashtags attached to videos can further broaden the video audience. Again, Google Trends can help here. Check out their View YouTube Search results to see what type of video content people are searching.
Creating effective content for mobile can be difficult, but it certainly isn't brain surgery. All it takes is a little bit of research, as well as the ingenuity to create content that is ideal for the mobile user. Put yourself in the driver's seat, and give your website a spin from a smartphone. If it's less than ideal, try incorporating these content ideas into your marketing strategy to maximize your mobile engagement.