Monday, February 9, 2015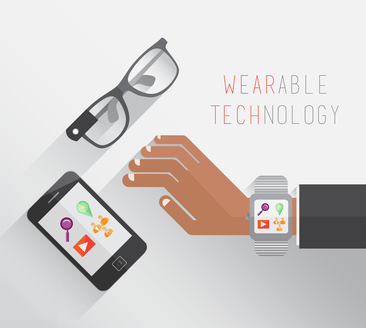 One of the hottest topics of 2014 was wearable technology. Companies like Samsung and Nike presented consumers with wristwatches and bracelets that enhance the capabilities of other mobile technologies. And when Apple unveiled their new iPhone 6 models, they also showcased the iWatch to the masses – the presentation generated a great deal of buzz in tech journals, and consumers have been wanting more ever since.
In case you've missed some of the latest leaps forward, here is a list of the best wearable technology you can find today.
Misfit Flash
The Misfit Flash is a waterproof wristwatch with a sleek design. It tracks your steps and your sleep patterns. The battery lasts for six months, and the watch itself comes with a wristband as well as a clip-on accessory. Plus, it works with both Apple and Android products. Best of all, it has a price tag of under $50.
Pebble Steel
The smartwatch that actually looks like a regular wristwatch, Pebble Steel has everything for the modern tech-savvy individual. It works with both iPhone and Android models, and has a plethora of awesome apps. Like the Misfit Flash, it is can hold up underwater and it has a terrific pedometer. The classic style is what really makes this smartwatch shine.
Jawbone Up24
Jawbone Up24 is the must-have fitness tracker. It tracks steps, sleep, and calories and is super easy-to-use. It syncs easily with almost any device using Bluetooth. Though it lacks a screen, the design is quirky, fun and uber-comfortable.
Samsung Gear VR
The first affordable VR headset available on the market: Samsung Gear VR. Though it requires a Galaxy Note 4 to function, the device is designed for an incredibly immersive virtual reality experience. A great way to dive in to another world without breaking the bank.
Martian Notifier
Made from an actual analogue quartz watch, the Martian Notifier is the perfect accessory for Luddites who need to update their technology. The battery lasts two years, and the watch itself isn't bulky or heavy. The greatest feature is its OLED readout where you can receive notifications and
text messages
. This is as subtle as it gets in the smartwatch department.
Google Glass
With its various incarnations over the years, Google has finally developed a workable eyeglass design for the lay user. With voice commands, Google Glass wearers can access info from their phones or the internet, or participate in a Google Hangout. Though we may have to wait awhile for the price to come down, most product reviews extol its greatest virtue – putting the functionality of the internet right before your eyes.
Fitbit Charge HR
Another great fitness tracker, Fitbit Charge HR goes a step further than the competition. This smartwatch has a continuous heart-rate monitor in addition to step-counting and all the other features of its predecessors. The heart-rate tracker is quite accurate, and its seamless design is very attractive.
Samsung Gear 2 Neo
This is the smartwatch for those who love features of the latest gadgets, without spending all of that cash. It features the smooth programming you've come to expect from Samsung, and other perks like offline music playback and heart-rate monitoring. Best of all, there are myriads of compatible apps – and more on the way every day.
If you are looking for the best wearable tech to pick up in 2015, look no further. Whether your goal is to get a move on, a stylish timepiece with some up-to-date features – or if you're looking to go virtual – consider acquiring some of this wearable tech. We doubt you'll be disappointed.