Wednesday, January 8, 2014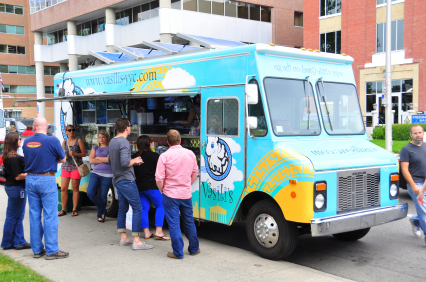 A recipe for foodie heaven.
The mobile food business has been part of life in Los Angeles as far back as the 1930s, when the city was already making a name for itself as the world leader in gas-fuelled convenience. Driving was everything. You could drive-in to movie theaters - and drive right thru restaurants.
Now, in a city that still worships mobility above all, the not-so-humble food truck plays a major role in the lives of all Angelinos, crossing racial, economic and class barriers by serving up quick and delicious fare that, even in its most gourmet incarnation, won't bust anyone's bank. Tacos. Cupcakes. Hot dogs. Quesadillas. Meatballs. Cronuts. There isn't a dish that hasn't at some point been passed through a serving hatch on wheels.
At the vanguard of LA's food trucks is a dynamic core of young, tech-savvy entrepreneurs who understand that mobile food requires mobile marketing. The result is a thrilling contest of promotional innovation between competitors, each food at full-throttle in a bid for the biggest slice of the pie.
Before the point gets lost in a hot-pot of vehicular/gastronomic mixed metaphors, let's consider how text messaging is helping these culinary innovators reach their hungry masses. SMS blasts and food trucks are a perfect match. Done well, they should possess many of the same qualities:
Convenience
Many Americans are tired of the monolithic fast food chains that dominate the culinary landscape, but they have grown used to the convenience they offer. Equally, few can now do without the easy communication provided by text messaging. Food truck entrepreneurs can satisfy both needs by texting opted-in diners when they are nearby.
Speed
Geo-positioning and other mobile technologies are allowing consumers to be located by businesses. This is not always appropriate. But when cuisine and customer are both on the go, geo-positioning, followed up with a quick text, could put them in touch with each other.
Affordability
Texting remains the preferred method of communication for anyone wanting to get a cheap message out. Similarly, even the most upmarket food truck keeps their prices reliably low. Simple menus, communicated via a simple medium.
Mass Audience
At a busy event, your average food truck can serve thousands of people over the course of a weekend. And bulk texts are the closest thing you can get to guaranteeing a mass audience. With an extremely high open rate, timely, relevant SMS messages are capable of increasing sales by 70%.
Tasteful
The beauty of text lies in its limitations. With so few characters available to them, creatives have to live up to their name and come up with succinct, to-the-point messages – rather like the tasty morsels dished up by food trucks all over the country. In both cases, simplicity and tastefulness is imperative. It won't work any other way.
With 82% of Americans now owning a cell phone, and the average user sending and receiving 55 texts within a 48-hour period, text messaging is the go-to option for marketing your food truck business to the biggest audience possible.