Thursday, July 21, 2011
by Natalia Klishina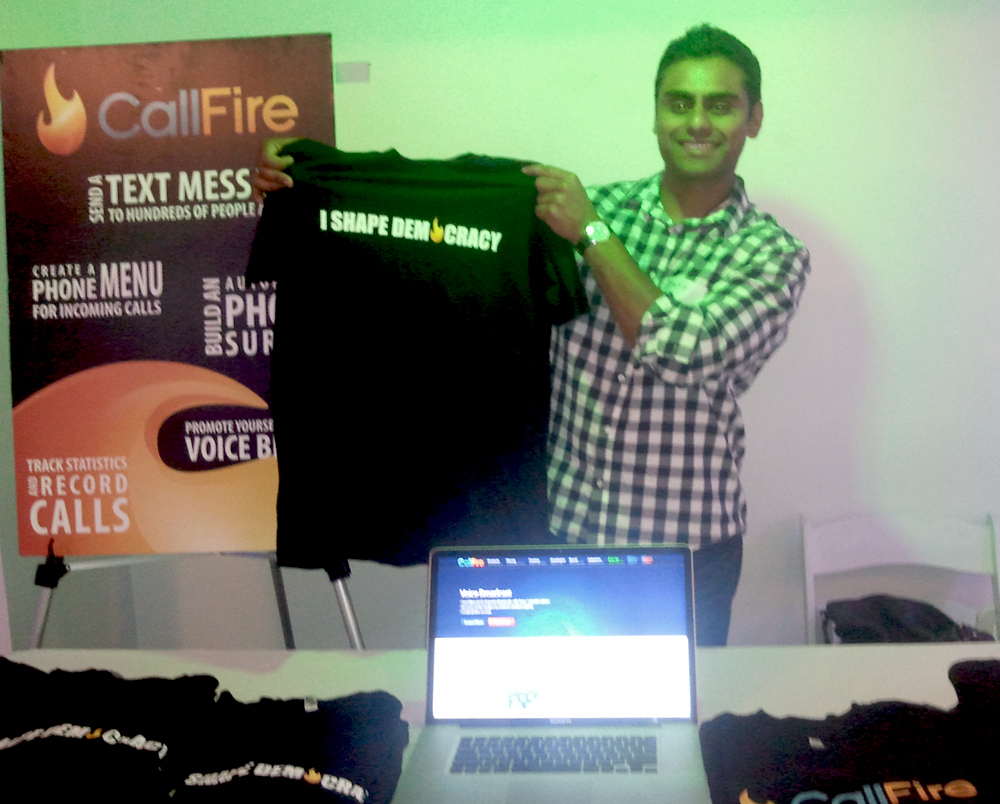 Last Friday,
CallFire
helped sponsor
Philanthro Connect 2011
-- a great invitation-only event put on by
Philanthro Productions
in order to connect emerging technology companies with the non-profit community. Since we work with hundreds of non-profits, we were interested in the idea as soon as we heard about, and we're glad we had the chance to make the event possible (as well as attend it). We even roped our CEO, Dinesh Ravishanker, into booth duty. :) That's him on the left holding up our awesome "I SHAPE DEMOCRACY" T-shirts. There were some great companies there with wonderful ideas, and we really enjoyed meeting them. Here's 2 of my personal favorites:
ONEHOPE Wine
ONEHOPE Wines
is definitely one of my favorite discoveries of all time, because 1) I love wine, and 2) I love good causes. ONEHOPE combines the two by partnering with winemaker Rob Mondavi, Jr. to resell his award-winning wines under the ONEHOPE label and
donate 50% of their profits to charity
. Each type of wine stand for a different cause: Chardonnay for Breast Cancer, Merlot for AIDS, Cabarnet for Autism, Sauvignon Blanc for the Environment, Zinfandel for Supporting the Troops, and Pinot Noir for Children's Hospitals. Here is an excerpt from their Vision:
Now when people gather and drink wine, they can talk about vintage, appellation and the cause on the label. Putting ONEHOPE Wines on shelves and in restaurants across the country keeps causes in front of consumers year round. Moving forward, the ONEHOPE brand will grow to include other causes, and eventually other products. We've been laughed at, and called crazy for giving away half of our profits, but why wait until we're old to do it? Why not make money and give at the same time? It makes perfect sense to us. It's true that we're young, and idealistic. Some even suggest we're naive, but the positive impact on people's lives and results don't lie. To put it into perspective, if just one in four, out of the estimated 19.5 million women who are or will be diagnosed with breast cancer in the U.S. received one bottle of our ONEHOPE Chardonnay every month for one year, ONEHOPE Wine could raise $70 million dollars for breast cancer research."
I was definitely inspired and promptly ordered a bottle of Zin on the spot. I also might have at times been mistaken for an employee since their booth was right next to CallFire's and I couldn't stop talking about it to passerby.
Roozt
Roozt
has a great idea and also some great reps with creative marketing ideas, which you might be able to infer from the photo of 2 of them on the right. Yes, those are chicken hats they're wearing. They were asking people to put them on and take photos to enter a photo contest to win credit on their site. They were also serving shots, which just
might
have encourage people to put on funky hats and take silly photos in them. As for what Roozt does, they apply the Groupon limited-time and limited-quantity discount deal to the world of good causes:
"Roozt helps ethical shoppers discover and save on socially responsible brands that make a positive influence on the world. We give consumers up to 80% off retail price of our featured products, exclusively socially responsible companies... By doing positive things for their communities, their employees, the environment, or humanity as a whole, Roozt brands allow customers to feel confident that their purchase not only gets them an awesome product, but is also helping to make the working a better place."
It's a great way to discover new companies and products that are more than just about profits.
There were definitely a lot of other awesome companies at Philanthro Connect, but there are just the 2 that stuck in my mind the most and that I really wanted to share with our readers. Hopefully, you'll like them as much as I did.
If you're a non-profit interested in working with us, shoot us an email at
sales@callfire.com
or call our sales line at 877-897-FIRE and ask about our
non-profit pricing
.