Friday, February 11, 2011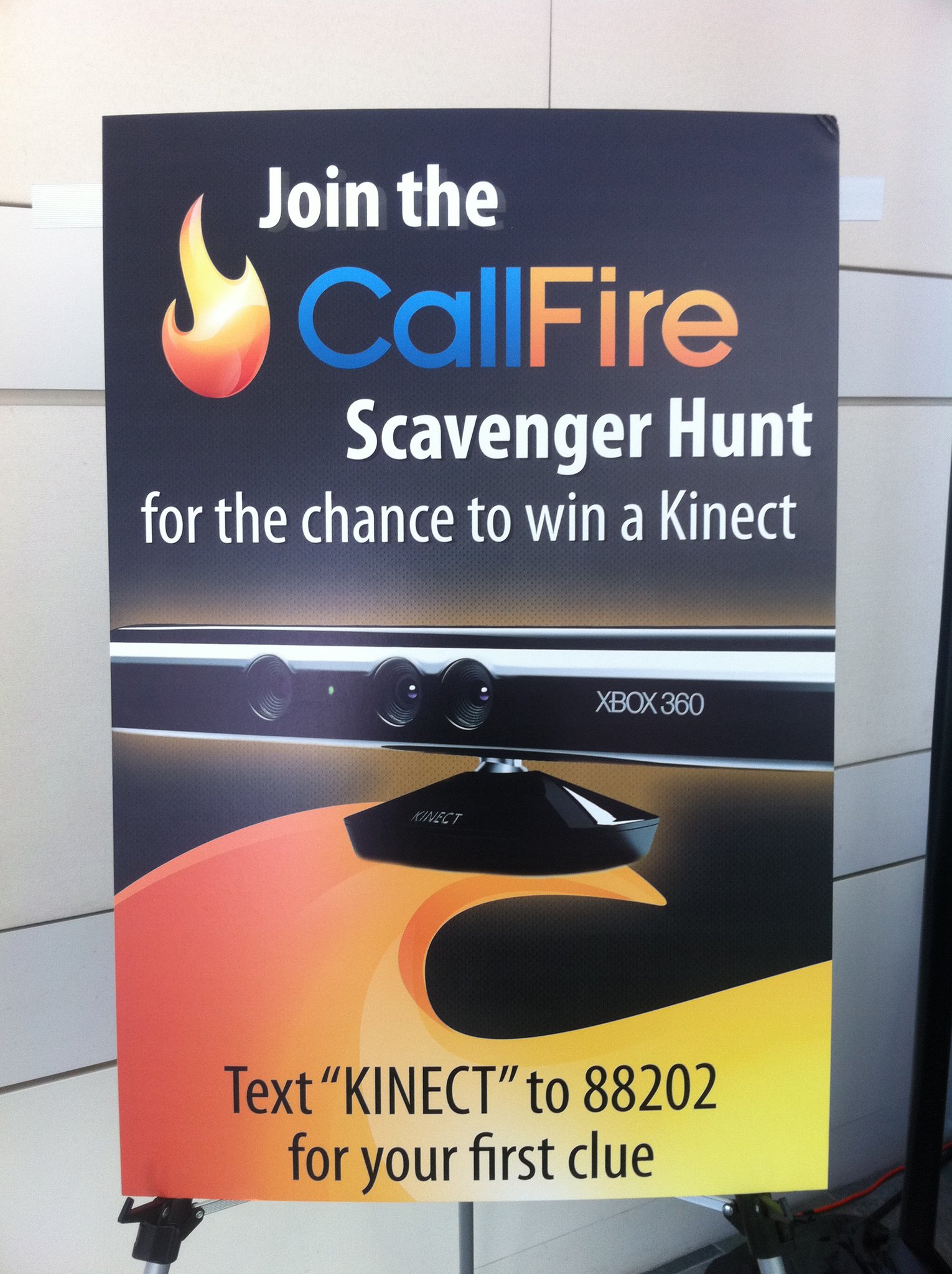 Yesterday, the CallFire team sponsored Twiistup 8, LA's largest tech event. We met so many great people, heard inspiring presentations, and were proud to be among other Los Angeles startups making exciting things happen. As our newest team member Daniel said, "It's incredible—Everyone here has a good idea."
CallFire added to the Twiistup fun by holding a scavenger hunt for the chance to win an Xbox and Kinect. We advertised the first clue with posters throughout the venue.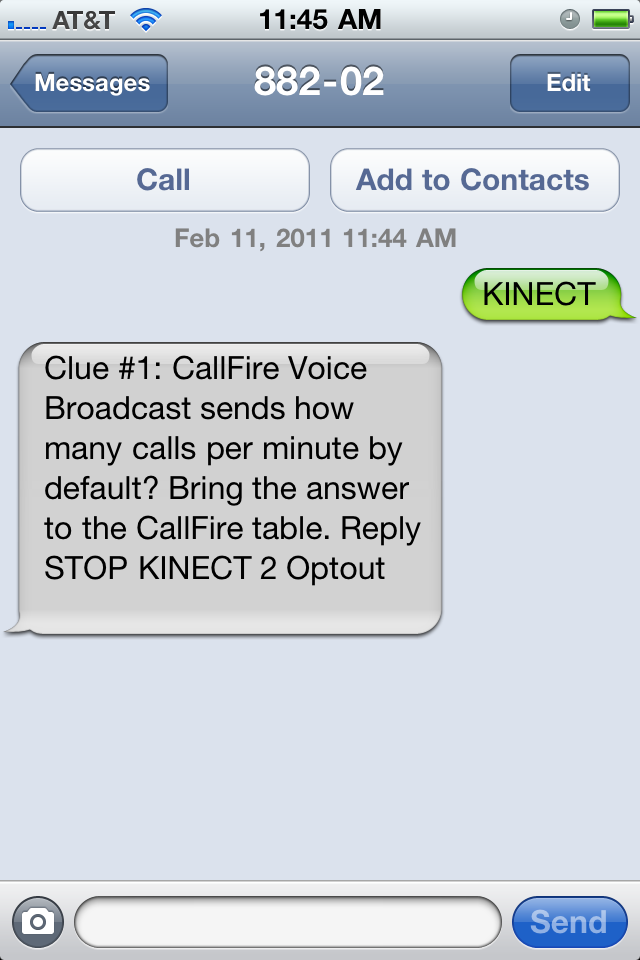 People who texted in got a taste of CallFire's SMS capabilities, along with their first clue. Our first participant had his answer (50 calls per minute) before registration had even begun!
Once hunters came to the table with the answer, they were handed a card with the second clue. It asked them about to identify one of our political Cloud Call Center clients that was featured in a CallFire case study.
As soon as the hunters had identified the client (Equality California), they were given their third clue, dubbed "the IVR challenge." They were asked to call into a CallFire Hosted IVR and answer a series of multiple-choice questions. The number they called was a new 855 number, to which one of the hunters, Richard Rosen of FastCall411 happily remarked, "I've never called into an 855 number. I am an 855 virgin!" Of course, now he no longer is.
Once the hunter successfully completed the IVR challenge, they heard a message saying that for the last clue, follow CallFire on Twitter. Sometime between 3:00 and 3:30, the final clue would be revealed. Ben Tao of GeoDip set an alarm on his phone to be sure he remembered to check.
It must have paid off. Later that night, as the Twiistup party got underway, Ben's name was drawn from all the participants, and he won the Xbox.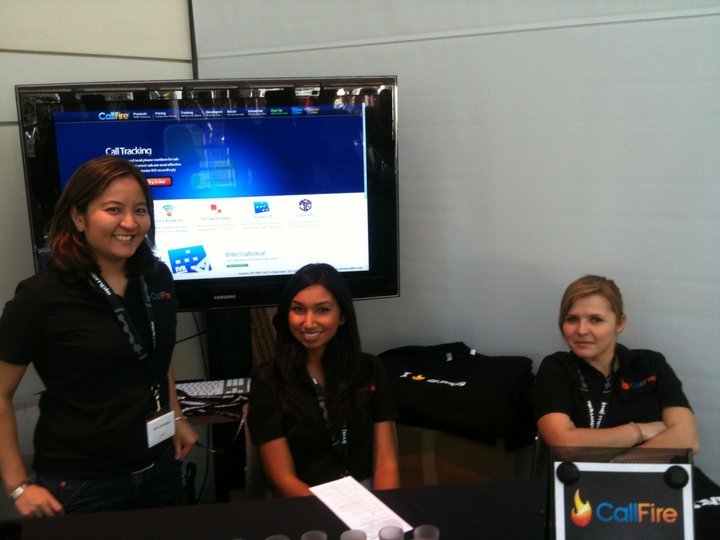 The CallFire scavenger hunt was great because at its core, it truly was an interactive demonstration of CallFire's services. One participant told us that he definitely understood what CallFire does, but had fun learning about it along the way. I didn't pay him to say that, but I didn't really have to. There were a lot of CallFire goodies that we gave away at our table.
CallFire handed out t-shirts to everyone. Several people remarked how cool they were, and were impressed by the fact that they were American Apparel, not some no-name brand. (We don't skimp at CallFire.) But that wasn't all. We offered every participant a free CallFire toll-free number, with 1000 IVR minutes to try out the service. One attendee said, "I don't want a shirt, give me the minutes!" Not that he had to choose.
On top of the shirts and the numbers, we also displayed frosted CallFire shot glasses, which were wildly popular. Asya Shein of Fusicology said, "That is genius!! I've been to a thousand of these events, and I have NEVER seen anyone do this! I'm never getting rid of this!"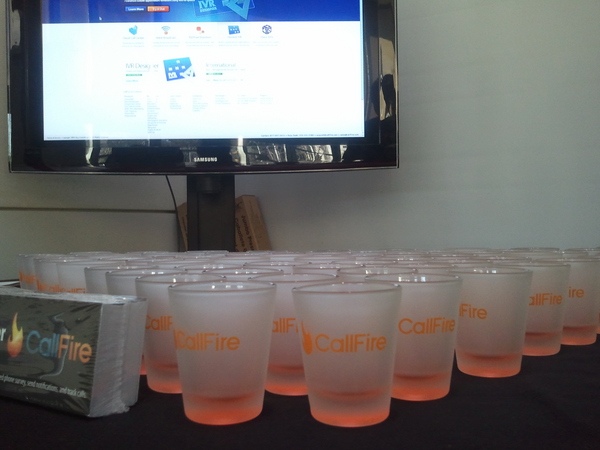 The shot glasses got even more popular with the arrival of CallFire's President, Komnieve Singh. Komnieve brought along a few tasty treats to enjoy inside the shot glasses.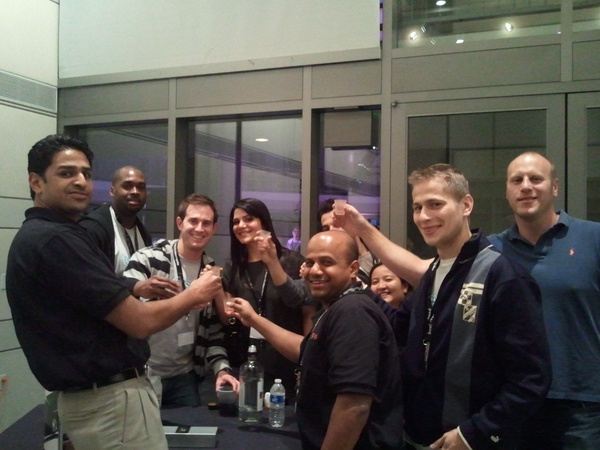 To the far right of that photo is Patrick Vlaskovits, who was the main organizer of Twiistup. We want to thank Patrick for all his efforts, because the CallFire team got so much out of participating, made some awesome connections, and had an all-over good time.
And thanks to everyone who met with us, educated us, inspired us, and drank with us. CallFire loves you.