Another popular method that CallFire customers use to create lists of contacts is to upload them from their computer, using a Microsoft Excel or comma-separated value (CSV) file.
Upload
Click the Contacts tab from within your campaign, and then on the Upload icon.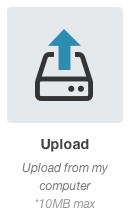 When you do so, as shown below, a selection screen appears, allowing you to choose files from your computer. Select the Microsoft Excel, comma-separated value (CSV), XLS or TXT file you want, and then click the Choose or Open button.


You'll next see the Validating Account Settings popup box. This is where CallFire automatically checks to make sure that each number in your list can be sent properly. If it detects a problem, it alerts you and gives you options for resolving the issue. More information on this process can be found in the Validating Contacts section of this help document. Once you are satisfied, please click the green FINISH button.
This takes you back to the Contacts tab, where you will see your file listed, as shown below. Check the box to the left of the file name, and then click the green NEXT button. The right Description column will include error and resolution types.
Once you do so, you'll be at the Settings tab, which is discussed elsewhere in this help section.