You own some phone numbers and keywords, and have conducted some campaigns. Now, you're wondering, exactly how are they doing? The Numbers link in the top navigation bar is your gateway to harnessing the true power of all that CallFire offers. Here, you'll find a treasure trove of detailed reports that help guide your strategy for current and future campaigns. And who says statistics have to be boring? Everything's presented in colorful, easy-to-understand charts and graphs. So c'mon, read on!

The Numbers Section
The Numbers section of CallFire is where you access many important statistics and reports relating to the products you are using. So, to begin, please click on Numbers in the top navigation bar.

Doing so takes you to the Phone Numbers page. This page offers you several options for accessing statistics about the CallFire products you are using.

Please note that in the upper right-hand corner of this page, and all the other pages in the statistical section, you will find the All Time - Everything pulldown box (see below). This box allows you to select a particular time period for which you would like statistics. The three graphics on the statistical pages will change, depending on the time period you choose.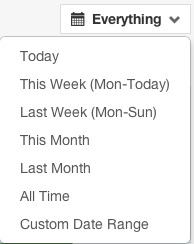 As shown below, in the left-hand column of the Phone Numbers page, you see two main product categories: Phone Numbers and Keywords. When you select one of them, your choice is highlighted in orange.
Now, let's take you through the many statistical options that can be accessed via this Phone Numbers page, and those connected to it

.