Get an overiew of all your texting activity on the Text Inbox page. View sent/received texts, filter by date, export your data, and more.
The Text Inbox
Click the Text Inbox link in the left menu to access your inbox.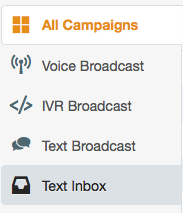 This brings up a screen with all of your inbound and outbound communications.

The Contact Number and Name (if known) display fist, and then the number that was texted (this is the Owned Number). This is followed by the message itself, and the time and date the message was received or sent.
Use the drop-down menu to filter by messages sent or received, or click on the Export link to download your data in Excel.
You can also click on the blue Contact Name to reply directly to the sender of the SMS.