You can use phone numbers from CallFire for all types of useful purposes. One of the most productive is in Call Tracking campaigns. Whether buying numbers that are local to your city or zip code, that are found by area code, or that are toll-free — or in combination — you'll be amazed at how easy our system makes it for you.

Purchasing Phone Numbers
Phone numbers, as well as keywords (which are discussed in another section), can only be purchased with the use of a credit card. At this time, you cannot use CallFire credits that you have purchased earlier to buy these products. You will be asked later in this process to provide your credit card information to complete your phone number purchase.
Click Numbers link in the top menu bar to begin the process of searching and selecting numbers. On that page, you will then click on the Buy Numbers icon.




The view will default to the local number search. Enter an area code, and an optional three-digit prefix, and click Search. The system will return a list of available phone numbers. You can also search by ZIP code and city name. If you are interested in a toll-free number, click that tab to view the current inventory. Please note that CallFire does not offer vanity numbers. Click on the green + icon to select a number for purchase, and on the red - icon to deselect it.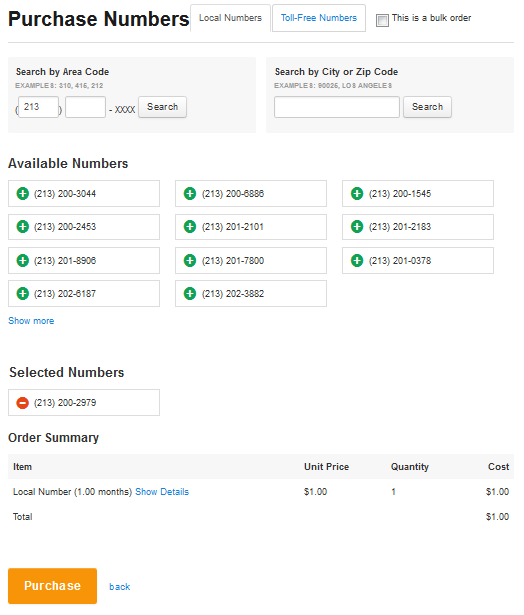 If you are looking for dozens, or even thousands of numbers, check the Bulk Order option instead. Click a predetermined amount or enter a custom amount.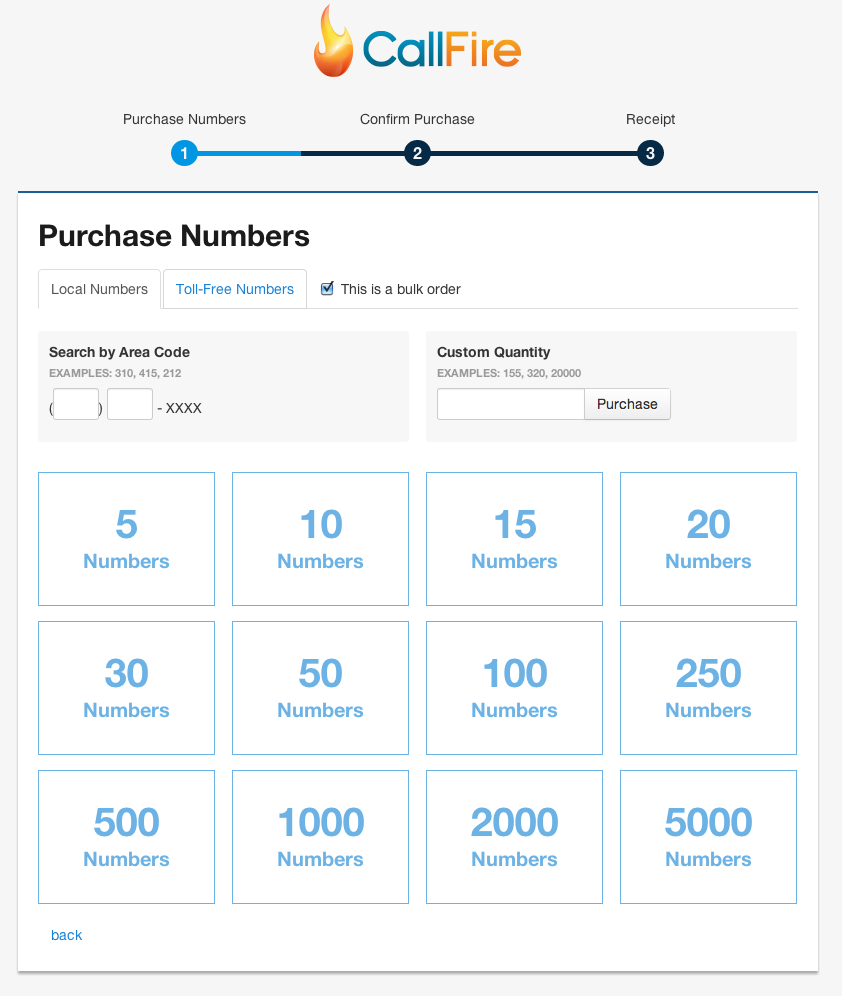 When you are ready to purchase, click the Purchase button. You will be asked to enter your credit card information, or, if you have a saved card already in the system, you can select it as your payment method. Once you click to confirm your purchase, please be patient as the system processes your order. The order status will move from Processing to Finished once it has completed.



back to top
Toggling Auto-Renew On and Off
By default, all purchased numbers are set to auto-renew each month. This is indicated by the green highlighting around the renewal date. You can cancel the auto-renew and "release" the numbers, which means that they will disappear from your account on the renewal date. To do this, select the number(s) whose status you wish to change by checking the box, and then click the Auto-Renew link. This will allow you to toggle the auto-renewal on and off.





When the auto-renew is off, the highlighting becomes red. This indicates that the number will expire at the end of its lease.



back to top