CallFire allows you to set up auto reply messages for your phone numbers. You can set the auto reply to go out to anyone who texts the number, and/or include a trigger word, so that people would need to text the trigger word in order to receive the auto reply.
Configuring Auto Replies
Start by clicking the Numbers link in the top menu. Then click on the phone number for which you wish to set up an auto reply.





Next, click the Auto Replies tab. On that screen, you will see an Add Auto Reply button. Click that button.





In the popup window that opens, enter your auto reply message, and click Create.




It is a good idea to include instructions on opting out from receiving text messages. You can enter these yourself, or you can check the "Add default opt out text" button, and CallFire will add the default message.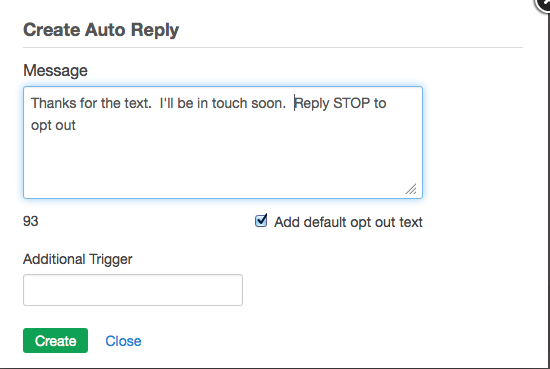 You can also include an additional trigger. People who text your number will only get the auto reply if they include the trigger message in their text to you.




In the example below, we have set up two auto replies. Anyone texting 310.504.2229 will receive the first auto reply. However, people would need to text Party to 310.504.2229 in order to receive the second auto reply.




back to top