The third option for creating an outgoing message for the recipients of your calls is to choose the best voice to text app, (Text-to-Speech.) As you'll see, CallFire's system allows you to type in your message, and then our software magically translates your text into easily understood speech. You even have a choice of male or female voices, as well as the choice of English or Spanish.
The Text to Speech option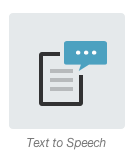 In the Create a Message pop-up box, select the Text to Speech option. Another pop-up box appears. As show below, here you will enter your message in the box.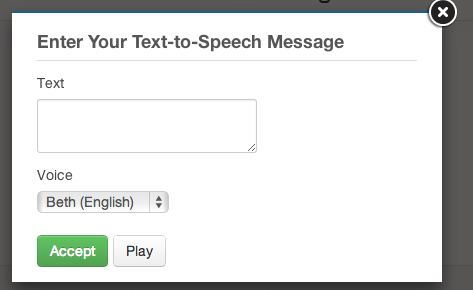 Once your message is entered, the "Voice" pulldown allows you to choose how you want it to sound, as seen below. Male or female voices are available, and so is the option of having your message read in Spanish.
If you would like to hear how your message would sound, just select one of the options from the "Voice" pulldown, then click the "PLAY" button.
After selecting your option, complete the Text-to-Speech recording by selecting "ACCEPT." You are sent back to the main "Voice Broadcast – Sounds" page, where you will see that your message automatically appears in the "Select a Message" pulldown menu. (It will start with the designation "TTS".)