Tuesday, December 16, 2014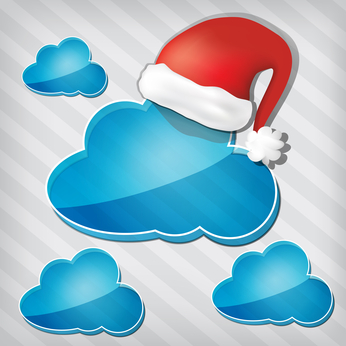 Cloud computing has changed the way we shop and caused the holiday season - which retailers rely on to carry them through the year – to undergo a radical transformation over the past 8 to 10 years. Consumers use the cloud with barely a second thought. For them, the transition from server-based to cloud-based storage was seamless. Not so for the businesses that serve them. Everyone from
Toyota
to
Santa Claus
has shifted their model towards the exciting possibilities suggested by the cloud.
If the average consumer could peek inside Santa's Grotto, they would see just how profound the impact of the cloud has been. Elves can work from home and still get access to hosted email and documents. That means a lower cost-per-employee for North Pole Inc., which means more Elves can be hired. Even those who brave the icy commute often choose to use their own devices. Whether they work remotely or at the factory, from one device or three,
the cloud
makes it possible.
The flexibility afforded by cloud computing has given employees – Elvish or otherwise - the autonomy they need to perform better. They're more efficient and more willing to work outside traditional office hours if it helps get the job done. Micromanagement has disappeared in a cloud. Hurrah!
It's not just staff management that's changing. IT infrastructures have been dramatically altered by the cloud. Historically, businesses hired IT experts to keep the hardware ticking over with software that remained stagnant. The requirements of the software had to be predicted 5 or even 10 years in advance. Minor updates were a major hassle, often closing down business for days at a time.
The problem with forecasts is they go wrong. Frequently. An IT consultant might make a conservative estimate on future business needs – trying not to lose the gig by aiming too high – and then three years down the line the company is five times the size and there isn't enough data storage to handle demand.
The cloud means never having to worry about running out of storage or server capacity. The savings your business can make are staggering, plus, you'll never have to worry about the capital expense of scaling up if you do need more capacity.
Cloud computing is less expensive and less unwieldy than a full-blown, traditional IT department. Scale back your IT staff to a small, reliable team of experts and you might find they become a great deal more innovative whilst saving you money.