Friday, May 16, 2014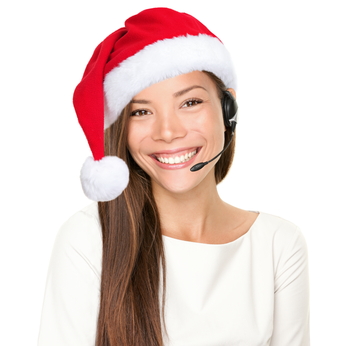 Are you looking for a multi-skilled, flexible, punctual receptionist? You should meet Miss Ivy Roberts. She's highly efficient, super friendly, and extremely knowledgeable regarding all aspects of customer service. She is available 24/7 to greet callers and connect them to the appropriate extension. Best of all, you'll only pay for her service once. After that, she'll provide you with years of loyal service. There's no doubt about it, Ivy R is the solution to all your customer experience needs.
CallFire's
IVR solution
answers the prayers of many small businesses who want to appear professional and dynamic, but lack the budget for another name on their payroll. A virtual receptionist is not only more affordable and more available than a human member of staff, it exudes a certain cache that basic automated answering services simply don't provide. Some of the ways businesses can make use of a virtual receptionist include:
Notifying customers of approaching billing dates or due invoices, and offering pay-by-phone options
Routing callers to the appropriate extension
Analyzing calls using call tracking
Greeting customers with personalized messages
A virtual receptionist will help you make missed messages a thing of the past, with 24/7 answering capabilities that far outstrip anything a live agent can achieve. You can create multiple departments and route calls to the right person using IVR technology. Even better, there is no need to set up – or maintain – any hardware whatsoever. A hosted, toll free number does all the hard work for you.
The services of Ivy R and her ilk make perfect sense in an age when customer dissatisfaction with service quality has reached an all time high. According to the American Management Association, 68% of clients stop doing business with companies because of poor service. Credit card companies are particularly prone to consumer recidivism, with 20% of the population abandoning their credit card providers purely because of bad service.
And yet, many of these companies run expensive call centers with armies of live agents taking calls round the clock, which rather puts paid to the notion that live customer service is somehow better than an automated service. Quite apart from the questionable efficiency of a team of agents, the average cost per contact between each agent and each customer is between $3 and $9 (according to International Business Machines Corp.) which is astronomical compared to an estimated 5-7 cents for calls handled by a virtual receptionist.
These costs have led to some pretty shabby tactics on the part of businesses – even big corporations with deep pockets; Amazon and Wal-Mart have both buried their contact numbers deep in their website in an effort to minimize the number of calls made by disgruntled customers. The financial benefits of offering live agent service simply don't cover the costs.
That's all well and good for companies like the two retail behemoths mentioned above – people don't shop with them for the customer service experience, they do it for convenience and affordability. But what about the little guy? Or the medium sized business whose growth is threatening to outstrip its capability?
Festive website
PackageFromSanta.com
brings smiles to the faces of countless children with their 'direct-from-the-North-Pole' letters and parcels. Since they added an IVR solution to their business, Santa isn't just sending presents – he's making personalized phone calls to children all over the world. From 5 cents per minute, the company has added an exciting string to their bow and, according to a spokesman, 95% of customers are happy with their phone call from Father Christmas. And why wouldn't they be? The cost is so low, PackageFromSanta is able to offer the service to customers at no extra charge. Try doing that by employing a voice actor (or even the real Santa Claus) to make calls.