Wednesday, August 22, 2018
How Ecommerce Companies Use SMS
SMS marketing is an effective way to break through the noise to attract, engage and retain ecommerce customers. It's scalable, easy to use and can have a powerful impact.
But most ecommerce businesses aren't reaping the full benefits — and they don't even know what they're missing.
Today, we're covering everything you need to know about SMS for ecommerce, including the benefits, how to use SMS marketing in your ecommerce strategy and the do's and don'ts of SMS for ecommerce.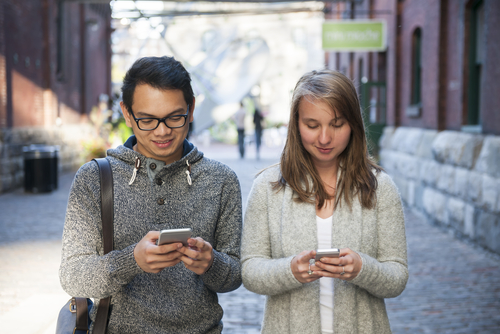 Why You Should Be Using SMS in Your Ecommerce Marketing Strategy
SMS is a direct communication channel to customers with near instant deliverability. Here are a few ways SMS marketing can boost your ecommerce business.
Mobile-focused. Google has been touting a mobile-first approach for years. But the shift from desktop to mobile marketing doesn't only include smartphone-friendly websites. Today, smartphone owners use text messaging more than voice, making it one of the most popular communication channels.
Direct, unfettered access to customers. SMS enables ecommerce companies to more effectively reach a targeted audience. With a staggering 98 percent open rate, SMS drastically outperforms email's 24 percent open rate. In minutes, your message is buzzing through to thousands of pockets without having to battle spam or email filters.
Foster an exceptional customer experience. Did you know that 55 percent of consumers would pay more for better customer service? Using SMS marketing to communicate with your audience can help strengthen relationships and improve customer retention.
How to Use SMS for Ecommerce
SMS for ecommerce tactics boil down to two goals — increasing revenue and improving customer service.
Here are a few ways you can use SMS marketing in your ecommerce company to boost sales and create an exceptional customer experience.
Promote Sales and Special Offers
Offer exclusive discounts, sales or product release announcements via text to build your subscription list and increase sales. You can also integrate SMS software with your CRM to target and deliver different messages to specific customer segments.
Here's an example campaign that a retail store used to engage absentee customers who hadn't visited the store in a while.
"Erin, we miss you here! You get 10% off your purchase on your next visit. Go to bitly.x.com (Expires 8/5)"
Here's why it works:
It's personalized. The message not only addresses customers by name, but also mentions that they haven't been to the website in a while. It's custom and personal — perfect for the more direct SMS communication channel.
It's valuable. With the exclusive discount, customers get a unique, valuable offer they can't get anywhere else.
It creates urgency. Adding an expiration date also prompts the person to act.
Reduce Cart Abandonment
Are you leaving potential revenue on the table?
Nearly 70 percent of ecommerce users abandon their cart. Text messaging can reignite user interest in your product and encourage purchases.
Create SMS campaigns that remind users about incomplete orders via text and entice them to complete their purchase.
Creatively Engage Your Audience
Texting is a great way to connect with your customers and build brand advocacy.
Remember the famous Snapple facts that appear under every lid? You can text REALFACT to Snapple to receive daily facts directly to your phone.
Whether it's a contest or fun fact, getting creative with SMS can help engage customers with your brand.
Improve Customer Service
Fast, pain-free customer service and communication have become the norm among ecommerce companies, and customers expect a seamless experience.
Nothing is more frustrating than struggling to find your order information, and poor customer service is detrimental to an ecommerce company's customer lifetime value and longevity.
With SMS, you can automate a range of customer notifications, including:
When popular items are back in stock
Order confirmations
Shipping notifications
Order status updates
Automating customer support functions not only provides customers with instant updates, but it also alleviates the workload on support staff.
Get Customer Feedback
Use text messaging to gauge your customer sentiment in real-time. SMS platforms like CallFire allow you to send surveys, polls and purchase follow-ups to measure customer satisfaction.
Here's an example of an SMS poll:
Thanks for shopping with us! We'd love to hear what you thought. How happy are you with your purchase? A) Extremely satisfied. B) Somewhat satisfied. C) Unsatisfied. (Reply with A, B or C.)
Here's why it works:
It's immediate. With traditional email surveys, a few days could pass before customers even see the email. With SMS messaging, you can check in with customers within 24 hours of their purchase.
It prompts action. The text is clear, simple to follow and takes seconds for the customer to respond.
SMS Ecommerce Tip: Make sure you know your limits and don't spam or overload your customers. Subscribers must opt in to receive any messages.
Check out our guide to SMS compliance here.
Integrate With Other Tools for Comprehensive Multimedia Campaigns
SMS isn't a standalone tactic. It integrates with social media, digital marketing and call tracking tools to create robust, multichannel marketing campaigns.
Here are some ways to integrate SMS marketing into your existing ecommerce marketing strategy:
Website: Add a banner to your website and social media pages to encourage people to join your texting program via a Keyword such as "JOIN."
Email: Add a text Keyword to email marketing campaigns.
Voice broadcast: Deliver personal messages by phone and follow up with texting.
Call Tracking: Purchase and promote local, toll-free numbers to track campaign results.
See how other businesses have combined SMS and voice campaigns for greater reach.
SMS Ecommerce Marketing Do's & Don'ts
DO respond immediately.
DO make it valuable. Texting is personal. Make it worth your audience's time. Provide company updates, a discount or details that they can't get anywhere else.
DO prompt action. Texts are interactive. Encourage customers to respond.
DON'T text them every day.
DON'T send rambling messages. You're texting, not writing a blog post. Keep the copy short, concise and to the point to prevent unsubscribes.
DON'T make them write an essay. All responses should be quick and easy — a few words max.
Ready to Launch Your SMS Ecommerce Campaign?
CallFire's powerful SMS platform enables ecommerce companies to instantly send out promotions, updates, notifications and discounts to thousands of prospects and customers.
With flexible pricing, customizable SMS messages and extensive reporting, CallFire's SMS platform lets you scale up or down as needed and personalize your campaigns to maximize results.
Ready to boost sales and improve customer retention? Try CallFire for free today.