Tuesday, December 13, 2016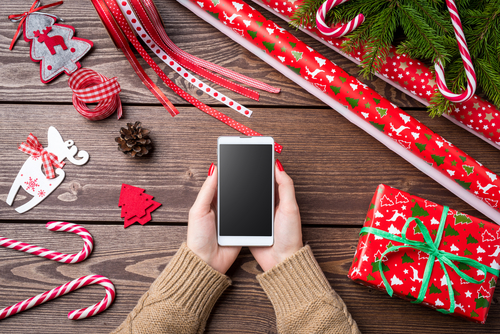 By Halloween day, store owners shove pumpkins off of the shelves and replace them with funny big-bellied dancing Santa figurines and tinsel. Retail businesses are not alone in the holiday spirit frenzy. In fact, many industries begin advertising Christmas specials by October or November. If you're a business owner and have not begun advertising holiday specials, don't be alarmed, there is still time. With text message marketing, you can quickly develop a Christmas campaign to put your business on customers' radars during the busiest holiday shopping season. If you have been curious about SMS for business or have been reluctant to attempt to acquire conversions through a different channel than you are using, then here are three reasons as to why you should dabble in text marketing.
Boost Engagement
There are likely plenty of strategies that may currently work for your business, but consider that texts have a 98% open rate and a 36% click-through rate, then reevaluate if your strategy could use a little pick-me-up. It may not be surprising that the open rate is so high because many people have their eyes glued to their mobile devices throughout the day. You may not like these circumstances but the reality is mobile use is ubiquitous, therefore, companies that want their business to flourish within several demographics, should hop on the mobile wagon. So, if you want to wipe out competition this Christmas, use text message marketing to rapidly reach customers and give them the ability to act on the spot.
Convenient For People On-the-Go
Many people are inundated with tasks on a daily basis. It is usually a Christmas miracle to comfortably plan out a Christmas shopping list and physically visit every business needed to complete the list in one fell swoop. That is why convenience is key for busybodies. Allow subscribers to create wish lists on your website and let them know when items are no longer in stock. You can also send out reminders about items on wish lists for those that forget about their shopping list.
Build Loyalty
Brand awareness and loyalty are very important—dare say, crucial to your success. To retain your customers or to benefit from referrals, you must value your text marketing subscribers. If you want new subscribers, offer a first-time subscriber bonus on top of a holiday discount. Or, send out a welcome survey to figure out what sort of Christmas deals your subscriber would prefer, and simultaneously collect data on your users to know how to market them in the future. Send out the occasional Christmas joke or inspirational quote leading up to Christmas day, along with ad texts for balance. However, don't be a pest. Showing that you are more than a pushy salesperson will keep people around.
Revel in the Christmas fun by treating yourself, and your company, to increased sales. And, indulge your customers with one-of-a-kind holiday deals. Let all be merry this shopping season.