Wednesday, April 6, 2016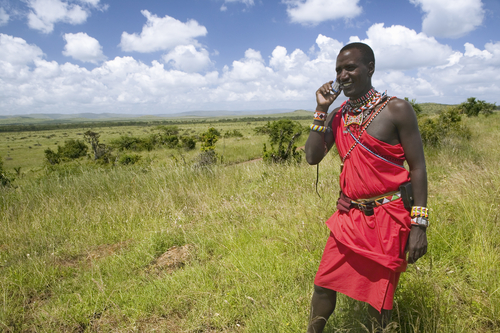 For the people of Nigeria, mobile technology brings better communications, but also political strain; the West African country is experiencing growing pains as it rises to become the continent's largest mobile market.
In a recent edition of The Report, published by Oxford Business Group, Nigeria increased mobile services from just 4 million in 2003 to 140 million in 2015. Mobile subscribers (voice and data) make up about 99 percent of the active 140 million users, and they're controlled by the country's four main operators: MTN Nigeria, Airtel Nigeria, Globacom and Etisalat Nigeria.
Support for Infrastructure
During the past decade, there has been a rallying cry from the country's government and the private sector to secure the infrastructure needed to maintain the rapid growth of oncoming users. The challenge is to overcome congested broadband, and bring services to rural areas that have been, so far, overlooked.
More than 3,000 km of terrestrial fiber were laid down, 10,000 2G and 3G transceiver stations erected, and a total of 16,000 km of a microwave transmission backbone called Y'ello Bahn – which interconnects with Cameroon in Borno, Cross River states, and Niger Republic in Sokoto – covered with fiber-optic cables; it's the longest privately owned cable ever built in Africa.
Improving telecommunications in Nigeria has had huge impacts on the economy as well, bringing awareness to the needs of mobile users and aligning them with other countries operating telecom with 21st century technology and systems.
One of the country's operators, MTN Nigeria, says it's committed to securing the socioeconomic future of users as well as the country:
"Our infrastructure supports critical sectors of the economy, from financial services to oil and gas and commerce. We remain committed to Nigeria and will continue to invest in the country through our operations."
Negotiations Are Needed
This future doesn't come cheap. Reducing the cost and time of many of these endeavors must be addressed. Industry experts are calling for negotiations between the private operators and the country's government to get the ball rolling.
For starters, the government is being asked to provide safeguards for investment opportunities, with the hopes of attracting new investors with government rebates. Moreover, the Nigerian government must work together to build up the telecom industry; in the past, most branches of government have been focused on the oil sector.
The Nigerian government will look to other successful countries operating robust telecom industries for help and answers. And some day soon, Nigeria may be the country other African nations look to as they overcome their own telecom obstacles.
Despite the aforementioned challenges faced by Nigeria, the public has enjoyed considerable benefits from the advancement of the telecom sector. In time, other industries will grow as a result of improved communications—telecom is really only the beginning for Nigeria.