Thursday, August 20, 2015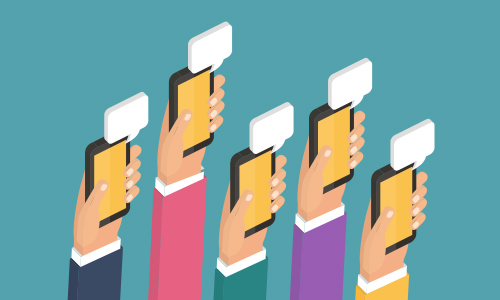 Expanding your SMS audience can be a Catch-22. Brands that don't have a large SMS audience don't typically market their SMS programs aggressively. And weak marketing means audiences don't know they can opt-in via SMS, so they don't participate.
To build your SMS audience, take charge and break the cycle. Here are five reasons customers opt in to SMS programs:
1. A Short, Punchy Call-to-Action.
Answer this question: Why should customers give you their mobile numbers?
Will it give them access to discounts or coupons? Make them part of an elite circle with "first to know" updates on new releases? Offer personalized alerts tailored to their specific interests, habits, or preferences?
Then, turn the answer into a brand statement. Use clear, action-driven language to answer the customer question, "what's in this for me?" Customers are more apt to sign up when they can clearly and quickly understand what value they will get and how to get it.
2. Multiple Touch Points
Once you have a call-to-action, include it at every point of contact for customers or potential customers. Include it prominently on your company website. Incorporate it into the order process. Add it to email blasts. Share it on social media. Better yet, incorporate it into your brand's social media profiles so it's always front and center. Place it on store signage and packaging as well. You never know when, where, or how the message will catch a customer's eye, so don't miss a blink. The more opportunities a customer has to engage with your business, the more brand trust you'll create.
3. Diverse Ways to Opt In
When you add your call-to-action to your company's website, make sure the site allows visitors to opt-in to
SMS messaging
without picking up their phones. It's a simple step that eliminates the potential hassle of sending new customers searching for their phones: a step that could kill their interest. Again, the easier to sign up, the more likely a customer is to opt in.
4. Geo-Specificity
Make the text messaging campaign location relevant. In other words, add value by creating promotions for a customer's local area; and create geo-specific campaigns, creating a sense community via SMS marketing strategies.
5. Clarity on What They're Signing Up For
As with any form of customer connection, SMS opt-in promotions must follow federal marketing laws, as well as rules set by individual cell phone message carriers. Make sure your messages abide by these rules so they reach interested customers on time. One of the key benefits of SMS is its ability to make communication easier for everyone, so make sure you're not accidentally giving up this perk by embroiling yourself in a dispute. The clearer customers are on exactly what they are signing up for, the more successful your SMS campaign will be.
When companies proactively manage their SMS marketing, they can leverage this simple tool to expand reach and solidify a position in their target markets. Don't miss out by falling behind in your text messaging strategies!