Tuesday, October 14, 2014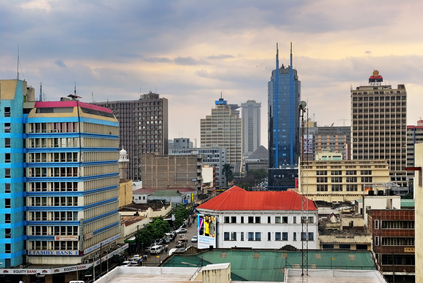 Nairobi boasts a
cityscape
to rival New York, London and Sydney. Dominated by the iconic upturned hut that crowns the Kenyatta International Conference Centre (KICC) and the 140 meter Times Tower, the skyline is as much a symbol of Kenya's identity as the country's namesake mountain.
High-rise development in Nairobi has played a big part in Kenya's economy since the first skyscrapers went up in the mid-sixties. After a construction lull during the 80s and 90s, the new century saw a rebirth of property development; by 2012, realtor Knight Frank judged Nairobi the fastest-growing real estate market in the world, ahead of cities like Monaco and Miami.
Nairobi's newfound status as one of the most exciting investment opportunities in real estate reflects a wider trend across Africa. The real estate market in Nigeria is estimated to be worth $360.3 billion. Like the rest of the world, rural-urban migration is increasing at a rate which practically means the best marketing strategy for real estate developers is to set up shop in one of Africa's many burgeoning economies and wait for business to arrive. With the continental population forecast to hit 2.4 billion by 2050, existing cities are swelling and brand new ones are bursting forth from the landscape.
Everybody from realtors to real estate marketing companies is benefitting from the boom, but the truly smart investors are those looking at the reasons behind it in order to predict where the next Nairobi will be.
There are several factors at play. In a resource-rich continent, global business interests are attracted to strategic economic and geographic positions. That's why East African countries with oil and gas reserves like Kenya, Uganda and Tanzania are doing so well. Telecommunications companies have built infrastructures in concert with real estate developments; logistics, security and trading experts followed, each playing their part in the urbanization process. The manufacturing, retailing and hospitality industries are expanding in concentric circles from Nairobi, the region's commercial nerve center. For good or bad, the multinationals have arrived.
Driving and uniting these diverse elements is the indomitable technology industry. Tech giants like Intel, Google, Microsoft and IBM all have important outposts on the African continent, and they have had a major impact on the real estate industry. The influx of such illustrious corporate heft to the African tech sector has in turn attracted the world's very best realtors, the ones capable of meeting a growing demand for state-of-the art office space.
The knock-on effect on regional developers has been profound. As the wealth of readily available expertise increases, property developers have upped their game in East Africa, not just in terms of construction, but also in terms of skillful, impactful advertising. With web access improving and reaching more people, small businesses can create a viable commercial real estate marketing plan without a bloated marketing budget.