Thursday, October 2, 2014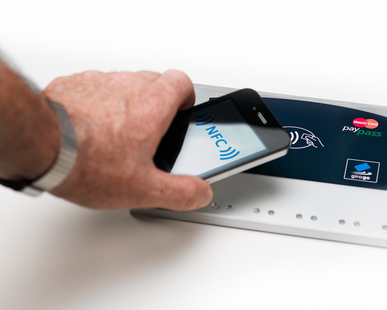 Apple Inc. has finally launched its tap-to-pay technology, entitled NFC, in its new iPhones and smartwatch. It may be the "seal of approval" near-field communication technology requires to become as widely-used as GPS, wifi and Bluetooth.
NFC technology allows smartphones to communicate wirelessly with other devices, such as point-of-sale terminals, by holding the devices together. Point-of-sale terminals are a great example of how the technology works, with proponents arguing this secure payment method could eventually replace credit cards.
Despite the supposed usability of such technology, it has yet to take off. Apple is looking to do something about that.
Apple Chief Executive Officer Tim Cook promoted Apple Pay, the company's mobile payment offering, at a recent gala event. NFC chips were implemented into the architecture of the company's two new iPhones and Apple Watch. Apple's "adoption" of NFC is poised to provide this technology the "long-awaited respect" it needs to truly take off.
"Apple not supporting it always called some people to question its viability," said James Anderson, senior vice president of mobile and emerging payments at MasterCard (MA.N), a supporter of Apple Pay. "All those questions have gone away now. I expect NFC will be the predominant technology for point-of-sale payments between a smart device and a merchant terminal."
Previous incarnations of tap-to-pay technology include NXP Semiconductors NV's (NXPI.O), which currently dominates the market, with Broadcom Corp (BRCM.O) the other popular option. Qualcomm (QCOM.O), MediaTek Inc (2454.TW) and Marvell Technology Group Ltd (MRVL.O) all offer chip technology, and may enjoy more significant market shares if Apple gets the ball rolling. Samsung and Motorola include NFC in many Android smartphones as well.
NFC chips were included in some 300 million smartphones last year, or about one-third of total smartphones shipped. That number is expected to increase this year to about 550 million devices thanks to Apple and Android. The chips are also being built into point-of-sale devices, medical tools and video game consoles, with NFC chip shipments expected to hit the 1.64 billion unit mark in 2018.
Chip use for mobile payments also makes it possible to sell more "secure element" options for protecting essential information such as account numbers.
"For there to be a full payment solution, there needs to be not only an NFC radio but also a secure element chip, which obviously increases the dollar content opportunity for chipmakers like NXP, but also provides more robust and secure solutions for the mobile payments industry," said Pacific Crest analyst John Vinh.
ST Microelectronics (SMT.BK) and Infineon Technologies (IFXGn.DE) are two chipmakers with a powerful stake in secure element components, while NXP had a 59 percent share of the market last year. Broadcom is creating "combo" chips that feature wifi, Bluetooth and GPS in addition to NFC technology.
"Today's news is a welcome indication that NFC technology is realizing its potential," said David Favreau, vice president of product management at Qualcomm, the world's leading chipmaker. "We have seen the growth of NFC in other geographies and expect it to become a standard feature for mobile devices."