Tuesday, December 3, 2013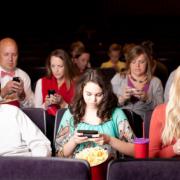 Celebs might have exclusive privileges in a variety of life's domains, but texting at inappropriate times isn't one of them! Case in point: Maddonna was recently banned from a Texas-based theater chain after she was discovered texting during a showing of 12 Years a Slave. Texting away on her cell during a premier at the New York Film Festival, Maddona was asked to stop by a nearby patron. Apparently, the pop star responded by saying, "It's for business…enslaver!"
The Alamo Drafthouse Cinema chain maintains a firm no-talking, no-texting policy during screenings, and the chain ejects or bans patrons who violate the rules. Tim League, the chain's CEO and founder, sent a twitter message after the incident indicating that Madonna would not be welcomed back to Alamo theaters unless she "apologizes to movie fans."
Maddonna is certainly not the first celebrity to be publicly reprimanded for texting at improper times. In 2010, Nicole 'Snooki' Polizzi, of Jersey Shore, got herself into trouble after tweeting about traffic while driving. While she evaded arrest, Newark Mayor Cory Brooker heard about the Tweets and sent his own tweet that Snookie had committed a ticketable violation.
That same year, Dr. Frank Ryan, plastic surgeon to the stars, was apparently tweeting about his dog just moments before his car flew off a cliff in Malibu. The tragedy provoked a surge of public awareness regarding the risks of texting while behind the wheel.
The anti-texting-while-driving campaign was since spearheaded by Oprah Winfrey, whose initiative to compel the public to stop text and driving has received immense backing from both celebs and fans. Oprah's 'No Phone Zone' pledge motivated other celebrities to get involved, such as Justin Bieber and Sharon Osbourne. After a text-related scare in 2011, Osbourne publicly committed to never text while driving again.
As the social – and legal – guidelines regarding safe texting practices develop, mobile communications companies are developing even more efficient ways for mobile users to send time-sensitive SMS messages without putting their lives at risk. Now, if companies could only figure out a way to stop people from texting in theaters…the mission would be complete!