Tuesday, September 21, 2010
The CallFire Development Team is working hard at HQ on CallFire 3.0 - our most feature rich product to date. These photos were taken last Friday, when the CallFire team held its' weekly developer "Show and Tell". Our team utilizes an agile dev process called "Scrum" methodology and we release features & deliverables in a time-span we call a "Sprint." (SCRUM on Wikipedia). Supporting an enterprise cloud platform isn't easy - here are a few tips that make constant innovation at CallFire possible.
Caption: (left to right) TJ, Adrian, Dan, Komnieve, Ryan,
James and Jacob attend the developer "Show and Tell"
to provide feedback on the next iteration of CallFire.
SCRUM BABY SCRUM
Scrum is an iterative, incremental methodology for project management often seen in agile software development. Scrum helps to:
Brings focus to specific tasks
Agility in the development process
Measure daily/weekly progress easily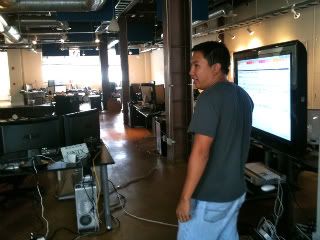 Caption: Edmond To, CallFire's in-house graphics &
user-interface expert, discusses the new Voice
Broadcast user interface in CallFire 3.0.
SALESFORCE IT UP
Salesforce is a software as a service (SaaS) company that distributes business software on a subscription basis. Salesforce hosts the applications offsite. It is best known for its Customer Relationship Management (CRM) products.
360-degree view of your customer
Detailed care/support management
Problem resolution management
JIRA TIL YOU DROP
Jira is a proprietary issue tracking product, developed by Atlassian, commonly used for bug tracking, issue tracking, and project management.
Tool to implement Scrum cycles
Doubles as a bug / feature management tool
Shows insight into task complexity