Monday, July 28, 2008
By TJ Thinakaran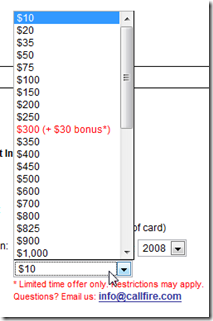 Well, it's not really a new feature as it's been around for a couple of weeks now, but here's the informal announcement:
CallFire is happy to announce CallFire Bonus dollars for our long standing customers. Select customers will see bonus dollars appear against specific amounts in their "Add Funds" page.
For example, in this picture, choosing the $300 level means you get 10% additional minutes free! One of the many ways we at CallFire would like to thank you for your patronage.