CallFire is a Santa Monica technology company dedicated to providing high-availability systems, intuitive user interfaces, furious developer support, and unparalleled customer care. CallFire provides voice and text connectivity to over 100,000 businesses. Customers include nonprofits, political groups, insurance agents, small-business owner, and marketers. Our headquarters are in Santa Monica, Calif., with affiliated offices in Hoboken, N.J., very near New York City, and Kiev, the capital of Ukraine.
Company Culture
CallFire prides itself on being a highly collaborative, innovative and passionate team. Everyone contributes more than their job title suggests. Our offices may be mere blocks away from the Pacific Ocean and the Hudson River, but we're usually so glued to our monitors that we forget they are there. When we need to take a break, we play pingpong, drink smoothies, and play with the office dog. We're actively involved in the Los Angeles and New York City startup communities, and proudly give 1 percent of our yearly profits to employee-chosen charities.
We hire interesting people. We believe in working hard and playing hard. That simple philosophy works: We've grown every year since our founding in 2004.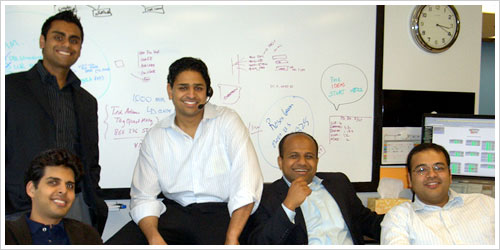 The CallFire Founders
Locations
Headquarters
Address: 1410 2nd St., Suite 200,
Santa Monica, CA 90401
Phone (US): +1.877.897.3473
Phone (Int): +1.213.221.2289
Fax: +1.310.943.0415
New Jersey office
Address: 100 Hudson St., 3rd Floor,
Hoboken, NJ 07030
Phone: +1.800.753.5732
Fax: +1.646.434.1020