CallFire provides user-friendly, intuitive voice and text connectivity products to over 100,000 businesses. The company is dedicated to providing high-availability systems, intuitive user interfaces, furious developer support, and unparalleled customer care. Our customers include small business owners, nonprofits, political groups, insurance agents, and marketers. CallFire is headquartered in Santa Monica, Calif., with affiliated offices in Jersey City, NJ, and Kiev, the capital of Ukraine.
Company Culture
CallFire prides itself on having a highly collaborative, innovative, and passionate team. Our offices are just blocks away from the Pacific Ocean and the Hudson River. When the team needs to take a break, they are likely to be found playing Ping-Pong, drinking smoothies, or playing with the office dogs. CallFire is actively involved in the Los Angeles and New York City startup communities, and proudly gives 1 percent of its annual profits to employee-chosen charities.
CallFire hires only the best and the brightest -- interesting people who work hard and play hard. That simple philosophy works: Callfire has grown every year since its founding in 2004, and was recently named one of the Best Places to work in Los Angeles.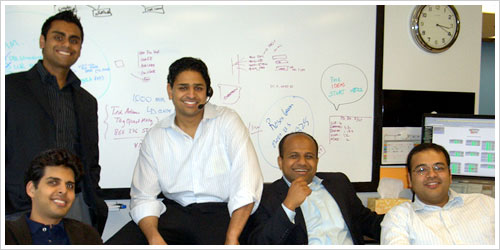 The CallFire Founders
Locations
Headquarters
1410 2nd St., Suite 200,
Santa Monica, CA 90401
Phone (US): +1.877.897.3473
Phone (Int): +1.213.221.2289
Fax: +1.310.943.0415
New Jersey Office
10 Exchange Place, Suite 1800
Jersey City, NJ 07302
Phone: +1.800.753.5732
Fax: +1.646.434.1020
Pasadena Office
14 N Fair Oaks Ave, Suite 500
Pasadena, CA 91103-3635